PMR push forward at Donington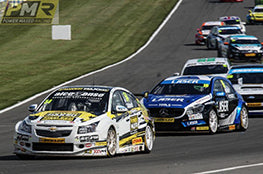 Power Maxed Racing were in action again this weekend at Donington Park for round 2 of the 2016 Dunlop MSA British Touring Car Championship. In a drama-packed weekend, BTCC stalwart Hunter Abbott and TV Star Kelvin
Fletcher had somewhat unusual April weather conditions on Saturday, which made the free practice and qualifying sessions slightly challenging.
The Paddock woke up to heavy rain and sleet on Saturday, leaving a wet-dry track which played havoc with strategies and was hampered by several red flags. Qualifying saw Abbott put in a brace of quick laps putting him into 12th place but was held up on a faster lap after yet another red flag, which left him no time to better his position. Fletcher's car was still undergoing repair to a broken subframe following an off-road trip in free practice two, but with the team hard at it and a new frame fitted, both car and driver made it out for race 1.
Race 1 started under sun-filled skies. Hunter started 14th with Fletcher, who missed out on a chance to qualify due to damage sustained in FP2, at the back of the grid. The lights went out and both Power Maxed Racing Cruze's got off the line well, Abbott was side by side with the Mercedes of Morgan going into Redgate, he successfully avoided the first incidents of the day, which brought out the safety car and bunched the field before the quick restart. Abbott was sitting in 12th whilst Fletcher had gained 3 places. Contact with a Team Hard Toyota damaged Fletcher's tracking and left him with no option but to use the remaining laps as testing with his race pace affected. Abbott was in the thick of the action with plenty of side by side combat with Smith and Turkington he made it up to 11th. Coming under pressure as his soft tyres went off, he dropped back a little but defended like a hero to keep former teammate Austin behind. Heavy impact between Simpson and Welch brought out the safety car, only to be followed by a red flag after a dramatic fire on Cole's Subaru next to the pitlane. Hunter scored the first points of the weekend finishing in 15th, with Fletcher nursing his car across the line in 25th.
Both drivers got great starts again in race 2 with Abbott side by side on the approach to Redgate, he secured the inside line. Fletcher, unfortunately, was speared off at Redgate by the Honda of Simpson ending his race, Simpson was later issued with penalty points for his contact with the Power Maxed Racing Chevrolet, but still a frustrating start for Fletcher. Abbott was on the charge and rubbed the back of Jordan's Focus, unfortunately, he was tapped from behind which sent his car spinning. He managed to recover and rejoined in 27th place. Frustrated, he put his head and his foot down, Abbott showed his pace and set about gaining back his early position. A safety car on lap 6 helped bunch the field but still had a huge job ahead of him. By lap 12 Hunter was up to 21st, with his sights still firming ahead. He gained an impressive 5 places over the next 6 laps. The final lap saw Abbott right behind Ingram and in door handle to door handle racing, he pushed for position but crossed the line in 15th place scoring the second batch of points for the weekend.
The final race of the weekend got underway under a cloud loaded sky. Both drivers survived the first few laps. Abbott struggled a little with over-steer after making a few setup changes but was soon back onto the pack. Fletcher also set about dispatching the backmarkers and was up to 22nd on lap 10, with some crowd pleasing moves. Abbott was clearly feeling a little racey as he chased the back of Ingrams Toyota for 14th, he then past Smith for 13th and was quickly on the back of Matt Jackson. It didn't take Abbott long to secure the inside line after more nail biting side by side action, he managed to ease himself into 12th. Meanwhile, Fletcher had mounted his own battle, clearly enjoying racing in the BTCC and with growing confidence, he moved up into 20th. There was still drama on the cards for the final corner as Abbott pushed the nose of his Cruze in front of Jordan into 10th place, this cost him momentum and 11th place as Jordan pulled away down the straight, unfortunately so did the Eurotech Honda causing Abbott to be pipped at the line and finish in 12th place by just 14 one-hundredths of a second. Fletcher was not far behind as he crossed the line in 20th and finally gave the doubters a taste of things to come from the BTCC rookie.
Hunter Abbott commented
" Donington never fails to bring excitement and action to the BTCC calendar, to come away with 3 points finishes and mixing with the boys at the front of the grid at our second FWD outing is really promising for myself and the team. Race 1 was really all about damage limitation with the soft tyre, so to come away with points was great. Race 2 had more potential, I was frustrated to get turned around on the first lap and had to rejoin at the back. To go from 29th to 15th, I'm pleased with my performance and had it not been for the first lap incident, we would have stood an excellent chance at getting inside the top 10. We made a few setup changes for race 3 and went a little too far, I struggled with oversteer on the early laps of race 3 which dropped me back a bit and then as the front tyres went off I could come back fighting again. I got back up to 11th and I decided to do a hero or zero move on the last lap last corner which would either result in losing one place or gaining two, it turned out to be more zero as I crossed the line in 12th but we bagged more points and great coverage for our sponsors. I am very much looking forward to Thruxton, the development from the team is really starting to show and I'm learning more about FWD every time we go out."
Fletcher commented "Donington was a mixed weekend, with early frustration after contact which damaged the cars tracking and then being dumped onto the gravel after contact in race 2 really hurt, but I was determined to get on it and show what I can do. I needed to rebuild my race confidence and with that race 3 was all about consistency. I finally feel like I have my mojo back after beating myself up after Brands Hatch. The car has real pace which was clear last season and the improvements since then and the hard work of the team has shown real promise for us to be able to move up the grid. I am looking forward to the next rounds especially Oulton Park being one of my favourite circuits but no one can escape the thrill of Thruxton, my last visit was behind the wheel of a Porsche, it is a circuit which requires patience to manage the tyres, you can't push too hard too soon".
Adam Weaver, Team Principal commented "We were all left frustrated after Brands with a few unnecessary incidents affecting the results, however, we know Donington is a good track for us, with last year's nail-biting race the Chevrolet seems to love the Craner Curves! So to score points at each race this weekend has been fantastic and we know we can score even more as the season continues and we get to grips with the new developments. Hunter continues to bring his race expertise to the team and is really starting to get his hands around the car and mixing with the front runners. Kelvin had some bad luck this weekend and at one point we wondered if he had a target on the back of his car, however he was finally able to show a little taste of what we know he can do during race 3, his confidence is back and with the team well and truly behind him for the season and more time in the car, he will be a force to reckoned with!"
The BTCC continues at the fast packed Thruxton Circuit on the 7th and 8th May, full coverage will be available on ITV4.