Strong opening at VW Cup Rockingham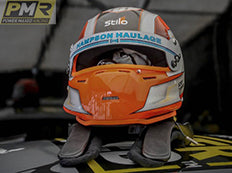 Power Maxed Racing were in action this weekend in the opening round of the 2016 Milltek Volkswagen Racing Cup with their VW Polo R's piloted by young guns Stefan Di Resta and Bobby Thompson.
The weekend was the inaugural round for the brand New VW Polo Rs and the cars represented well but also have a lot more left to deliver.
The boys made a good start to the weekend and despite Di Resta suffering from a faulty driveshaft that hampered his progress, Bobby Thompson put in some solid laps to qualify 4th. There is every chance he would have been higher had it have not been for a red flag stopping the session with 4 minutes left to run.
Race 1 saw both drivers get off the line well, Stefan Di Resta made a charging start to make up 5 places off the line whilst Bobby Thompson was hung out to dry on the first corner forcing him back to 7th but seeing him safely round turn 1. Both drivers kept forward momentum and after a number of skilful overtakes pushed themselves up the grid. Thompson was running well in 6th until his tyres started to fade and he had to settle for 7th. Di Resta held his ground and crossed the line close behind in 9th, the young Scot showed his race craft as he defended his position well and in his first race after nearly 2 years out of a race car.
With race 2 starting mid-morning on Sunday, the sun was out and all looked good for an action packed race. Again both drivers made solid starts, Thompson made up 2 places at the first corner but a third corner incident in front caused him to slow dropping to 6th. Di Resta was setting consistent laps in 10th, delivering a nice clean drive. The second half of the race saw Thompson show his class as he reeled in the competitors in front of him, making it up to 4th as he crossed the line. An incident in front of Di Resta caused him to take avoiding action and drop to 14th but brought the car home safely.
Adam Weaver, Power Maxed Racing Team Principal commented,
"I'm pleased with the cars, drivers and team this weekend. Considering it is the first time we have competed with the Polos in the Volkswagen Racing Cup and with Bobby finishing as high as 4th, it shows we have the right ingredients for success."
Weaver continued,
"We ran this weekend with a careful setup and have so much more we can do to develop the car, pair this with the skill of our drivers and the team and I think we are going to be a force to be reckoned with in 2016."
The championship standings are as follows, Bobby Thompson sits in 6th with Di Resta in 11th.
The Power Maxed Racing VW Polo Rs will be in action at Oulton Park on the 28th May. Television coverage of this round will be on Channel 4 in the coming weeks.