PMR show pace at Thruxton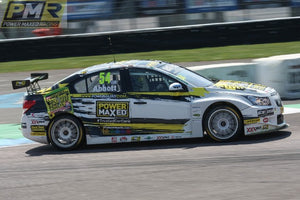 Power Maxed Racing were in action this weekend at Thruxton in the latest round of the 2016 Dunlop MSA British Touring Car Championship. The Hampshire circuit is known for its high-speed corners
with speeds hitting 130mph round the Church corner.
This weekend is the first time that either #54 Hunter Abbott or #84 Kelvin Fletcher had driven the high-speed circuit in a front wheel drive car. Both drivers used the free practice sessions to scrub their tyres for the weekend, get to grips with the track and develop a set-up for their cars.
Qualifying was unseasonably hot with temperatures well over 20 degrees. Abbott had a strong start to the session and was positioned 9th at the mid-way point. After a pit stop to change to his second set, he struggled to make the most of them, dropping him to 19th. Following from a good outing in free practice, Fletcher built up his lap times well but a mistake on his flying lap at Goodwood and then traffic ahead surpassed his efforts and saw him qualify in 27th.
Sunday Morning saw race 1 get underway under the hot sun filled skies. Thruxton is the toughest circuit for tyre wear, so much so that Dunlop develops a special compound of tyre for the meeting. With track temperatures of 32 degrees, tyre wear was a growing concern, if the drivers pushed too hard they risk not finishing the race.
The action packed race saw Fletcher retire with a clutch issue on the first lap. Abbott enjoyed good progress on the first lap but was sent spinning from 14th place at 120mph after Collard got sideways and drifted into Abbott on the 2nd lap. Abbott rejoining in 28th place and battled his way back to get his Chevrolet across the line in 15th place, despite suffering from oversteer caused by damage from the earlier collision.
Kelvin Fletcher commented,
"If I didn't have bad luck I wouldn't have any luck at all. A clutch issue on lap 1 forced my retirement but it made me even more determined for the rest of the weekend".
Abbott commented,
"We were one of the quickest cars on track at the end of the race, despite a fist full of oversteer from the contact with the BMW of Collard, if this hadn't have happened I think I could have made it into the top ten in this race."
Both cars were back on the grid for race 2 after the team did a sterling job of removing the engine to replace the clutch and to rectify damage from the opening race. Fletcher made a solid start and gained a place at the end of the first lap, working to preserve his tyres for the reduced race duration. After an early race set back, Abbott set about battling his way back up the grid with blistering pace, setting the 3rd quickest lap of the race. However midway through he had contact with the Audi of Jackson which damaged his radiator, ending his race. Fletcher continued to gain momentum, making several moves to cross the line in 23rd.
Abbott commented,
"I caught Ollie Jackson and accelerated out of the left-hand apex as usual, Ollie just didn't get on the power at the apex and I went up the back of him. When you're racing with inches between you and the car in front doesn't go on the throttle when you would expect it to, it's easy to have contact like this. Unfortunately, it put a hole in my radiator and ended my race."
Fletcher commented
"I feel like I'm really getting to grips with Thruxton and my pace was improving with each lap. I am also learning the limits of the tyres as they started to suffer towards the end the race but with good engineering and careful tyre management, I didn't suffer a puncture".
With record crowds at Thruxton, race 3 got under way with track temperatures of 35.6 offering no let up for the tyres. Fletcher started in 23rd, made an aggressive start but by being calculated he stayed out of trouble, which paid off as he worked his way through the pack to bring his Chevrolet home in 17th place, his best result to date. Abbott also had a great start, working his way up the grid from 28th to 25th by the second corner but had to retire after colliding with Lines at the exit of Complex, a disappointing end to the weekend.
Fletcher commented
"I wanted to come away with a finish, so kept it clean, looked after my tyres and came home in 17th. My times were getting stronger and it was great to show the pace that both I and the car have. I'm really looking forward to Oulton as my home circuit and my confidence has really come back.
Abbott commented
"I was really fired up for a great weekend at Thruxton, sadly it wasn't to be. I feel so sorry for the team, they provided a quick car that treated its tyres really well, but apart from a single point finish in race 1, I couldn't bring home the goods for them. I'm pleased with the pace after setting the 3rd quickest time in Race 2 and being the quickest car on track for the last few laps of Race 1. It's been a weekend to forget. Some of the issues outside my control and some of my own making. I've learnt some lessons and I can't wait for Oulton Park.
Adam Weaver, team principal commented
"While Thruxton brings high-speed thrills, we were prepared for a tough weekend. The team have worked tirelessly to ensure the cars have good pace to allow our drivers to get into the front pack. Hunter seems to have a target on his car at the moment, it is incredibly frustrating as we all know what both he and the car can do and it should be at the front of the grid. Kelvin has come under some undeserved criticism in recent weeks, so we were very proud to see him racing at pace, having his best finish so far. We have a break now to work through the data and make some more changes for the next round at Oulton Park".
Next round of the BTCC is at Oulton Park on the 4th and 5th of June, full coverage will be available on ITV4.