Fletchers progress at Silverstone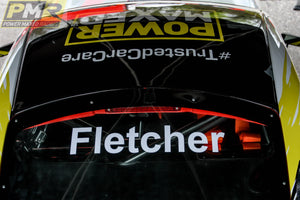 Power Maxed Racing Ginetta GT5 driver Brayden Fletcher was also in action this weekend at Silverstone in a triple header for the Protyre Motorsport
Ginetta GT5 Challenge. In very wet conditions the young Mancunian made real progress.
After an intense qualifying session, he set a personal best to qualify 9th in class, 12th overall, after setting some consistent and fast laps, very close to his ideal lap.
Race one was the last race on the schedule for the cloudy but dry Saturday. Fletcher got a good start. However, luck was not on his side as he was turned around on the first lap while heading into Stowe, putting him out of the race.
Sunday morning saw race two of the Ginetta GT5 Challenge and a chance for Fletcher to make amends for his misfortune on Saturday afternoon. Starting from the back of a grid of 40 cars, the youngster made significant progress and made it up to 22nd by the end of the first lap. He kept his focus and was up into the late teens by lap 3. Keeping it clean, Fletcher progressed and finished the race 10th in class, 16th overall.
The weather had broken by the third and final race of the weekend, and the track was wet as Fletcher started on the 8th row of the grid. With no experience in the wet, young Fletcher did exceptionally well to hold his own throughout the race. He initially lost ground off the start but made it up to 12th by lap two and managed to finish one place ahead of his starting position.
Brayden Fletcher commented, "It has been a bittersweet weekend, racing the Ginetta in the wet really tested my metal, but I'm pleased with how I got on and I've shown I can compete despite the conditions. Being turned around in race one was frustrating, but I got my head back in the game and made some good overtakes."
Adam Weaver, Power Maxed Racing Team Principal commented,
"Brayden has been at the sharp end this weekend, but he has dealt with things very well.". He continues, "The team have also worked very well to turn out a robust and reliable car, they have also been mentoring students from Brayden's sponsor the University of Bolton, it's important to develop up and coming talent."
Brayden will be out again as the Ginetta GT5 Challenge Championship returns as part of the Dunlop MSA British Touring Car Championship this weekend at Croft.