CCTVKits sponsors PMR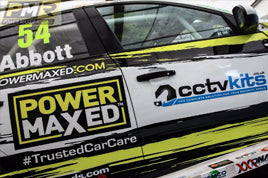 Power Maxed Racing is proud to announce it's new partnership with online CCTV retailer CCTVkits.co.uk who have signed a sponsorship deal with the
Warwickshire team for the rest of the season.
The deal will see the CCTVkits.co.uk logo displayed across both cars with a prominent feature on the doors of Hunter Abbott's #54 Chevrolet Cruze. CCTVkits.co.uk is also providing a state of the art ANPR based security solution for the Power Maxed Racing Head office and workshop.
CCTVkits.co.uk started out in 2010 as a modest online retailer of surveillance equipment and has gone from strength to strength. In just six years the business has flourished and is now a major supplier to both trade and the end user backed by dedicated sales, technical support and installation teams. Their growth is a direct result of the understanding of their customers' needs in securing their premises, working with a range of clients from the DIY home installer to larger level commercial clients they offer high-quality products at competitive prices.
Adam Weaver, Power Maxed Racing Team Principal commented,
"CCTVkits.co.uk are going to be installing a state of the art CCTV system at PMR with a number plate tracking and capture facility. Studies show that CCTV is a vital ingredient in crime prevention and with us having such high-value kit it is a necessity. With our fellow competitors and our motor factor customers in a similar position, I would urge them to come and visit our workshop and see our system in action. The advice from CCTVkits.co.uk is as good as the quality of their products, which are as incredible as is their service and prices."
The BTCC is watched by over 380,000 trackside spectators and 21 million TV viewers in the UK and has a worldwide following of more than 81 million. With Social media followers growing rapidly and the use of sponsorship activation tools including online video, it's easy to see the benefits offered by BTCC sponsorship packages.
Adam Weaver, continued,
"We're obviously delighted to welcome CCTVkits.co.uk on board for the rest of the season. They have secured a fantastic space on the car, and I have no doubt that this will deliver the brand exposure they deserve. I have always advocated the BTCC as an excellent platform for brand exposure having achieved massive growth for the Power Maxed Brand; we work very hard to promote our partners by leveraging many items including PR and our online videos."
CCTVkits.co.uk Director Adam Downey remarked,
"We're delighted to be on board with Power Maxed Racing as a sponsor and security systems supplier, helping them to secure their premises and their touring car team."
You can see the CCTVkits.co.uk logo proudly displayed on the Power Maxed Racing Cars as they are in action this weekend in the latest round of the Dunlop MSA British Touring Car Championship at the North East circuit of Croft.