Bobby Thompson in PMR BTCC Test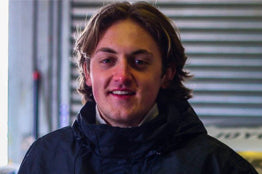 Power Maxed Racing are proud to announce that they will be testing one of their VW Cup drivers, Bobby Thompson in the Power Maxed Racing
Chevrolet Cruze on Thursday at the official Dunlop Tyre Test at Snetterton. Thompson, a junior Power Maxed Racing driver, is currently leading the championship, and this test illustrates the commitment the team have to their up and coming talent.
Power Maxed Racing introduced their young driver program this year and built two VW Polo R spec cars as a pathway to develop future touring car stars. In addition to a Ginetta GT5 and British Rallycross Fiesta, the Warwickshire based team recently expanded their fleet with a pair of Siroccos and are sourcing two Renault Clio Cup cars for the 2017 season.
The Dunlop Tyre test is an opportunity for the BTCC title sponsor to experiment with a number of different tyre compounds for the 2017 season and gain feedback from different cars and drivers as to their performance.
Bobby Thompson commented,
"It's a dream come true to be able to test a British Touring Car; I have always loved the championship and can't wait to see how I stack up. This year has shown me that Power Maxed Racing build an excellent car, and I want to repay the faith and support they have given me in my career so far."
Adam Weaver, Power Maxed Racing Team Principal said,
"Bobby has shone this year for us in the Volkswagen Racing Cup, and I believe in rewarding his hard work and talent with the chance to test a British Touring Car. Bobby's attitude, skill and personality are exactly what we are looking for in a driver, and we believe he will go a long way."
Weaver continues,
"We are committed to our younger drivers and are delighted to be helping Bobby move forward in his career. Of course, budget plays a big part in any motorsport, but we are confident that Bobby can make the move next year onto the prestige of the TOCA package, hopefully in a touring car or a Renault Clio. We work in close collaboration with Bobby and his sponsors to help deliver maximum value and urge any interested parties to get in touch."