Roller coaster for Taylor in Belgium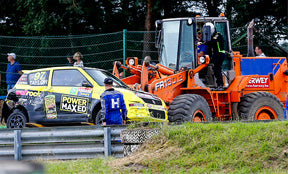 Retford driver Jake Taylor experienced a roller coaster weekend at the fifth round of the MSA British Rallycross Championship at Maasmechelen in Belgium
(July 16 – 17).
Racing for the Power Maxed Racing team in the Swift Sport Rallycross Championship category, Taylor headed to the event hoping to build on a strong opening four rounds of the season. The MSA Academy Member used his increasing skill-set in the lead up to the event to do as much homework as possible, having never previously raced on the Maasmechelen circuit. The British driver used the Saturday evening free practice session to put that homework into practice and get acclimatised to the new circuit.
Q1 also took place on Saturday evening at the joint British and Belgian event. Taylor made a great start and was involved in a race-long battle, taking his compulsory joker lap at the correct time and finishing fourth on track. "Maasmechelen's a fantastic track that's tight and technical, it really suits my style of driving and made for some close racing," said Taylor. "In practice I got a real feel of the track and the car felt well balanced. In Q1 I didn't get the best start and I had a fantastic race trying to improve my position. I was pleased with that and knew we could build on it going into day two."
However, Taylor's time in Q2 on Sunday morning was hampered by a technical issue, his Swift Sport didn't have second gear, but, using his experience he managed to complete the race regardless and fight hard against his rivals in the single-make category, despite the deficit. The Swift was quickly repaired by the team and Taylor entered Q3 confident of setting a solid time to qualify for a place in the final, but it wasn't to be. While avoiding chaos that ensued at turn one when another competitor rolled their Swift, Taylor's car was struck on the left front wheel, breaking his drive and steering, before another car ended up almost on top of the right-front of Taylor's car.
The extent of the damage prevented the Power Maxed Swift from being quickly repaired and taking the re-start of the race, and Taylor just missed a place in the final as a result. "I managed to deal with only having first and third gears well in Q2 and I had a great battle. It was impressive how quickly the team were able to fix the problem in the paddock," explained Taylor. "In Q3 I had a lightning quick start but unfortunately a car rolled not too far away and the other competitors had to swerve to avoid the incident. Even though I was not involved, one hit my front left, then another car actually drove up the right side my Swift. It was chaos and I was left without steering and drive, unable to continue. We felt the brunt of the incident for sure – it was all looking good and it was just a case of being in the wrong place at the wrong time, and a serious streak of bad luck! Motorsport can be harsh sometimes!"
While disappointed at being unlucky not to make the final, Taylor's Belgian result maintains his fifth position in the championship standings, with three rounds to go. "It's important to keep going and keep focused. I'm thoroughly enjoying everything rallycross has in store for me, although sometimes you have to take the ups and downs along the way. I really enjoyed the Belgian event, it was an eye-opener for me racing in Europe. It was a great atmosphere there with incredible people. The Power Maxed guys worked so hard on my car over the weekend so I'm really grateful to them. I cannot wait to get back out there at the next round at Lydden Hill on August Bank Holiday (July 29) and improve on my performance and gain more valuable points."
Final results, Round Five, Belgium:
1 Aidan Hills
2 Nathan Heathcote
3 Simon Ovenden
4 Jack Brown
5 Chris Woollett
6 Brett Harris
7 Martin Dalzell
8 Dew Bellerby
9 Jake Taylor
Championship standings after round five:
1 Nathan Heathcote 135
2 Aiden Hills 128
3 Simon Ovenden 126
4 Jack Brown 100
5 Jake Taylor 89
8 Brett Harris 85
7 Drew Bellerby 85
8 Chris Woollett 81