Newsham stands in at Knockhill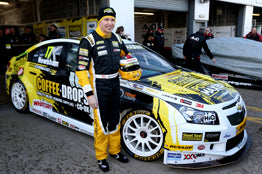 Power Maxed Racing (PMR) have confirmed that Dave Newsham will be standing in for Kelvin Fletcher for this weekend's rounds in the Dunlop MSA
British Touring Car Championship at Knockhill as Fletcher is expecting the birth of his first child.
Newsham will compete in all three of this weekend's races in Fletcher's PMR Chevy Cruze ahead of the actors return at Rockingham at the end of August. In Fletcher's first season in the UK's leading racing series, the Emmerdale Star has gone from strength to strength.
Dave Newsham last raced in the BTCC in 2015 when he had a strong season with PMR and remained with the Warwickshire based team as he made the move to British Rallycross.
Fletcher commented,
"As much as I love the BTCC, and I love to race, the birth of my first child is not something I can miss, Liz is due any day now, and I just can't be in two places at once. I feel like I have been making progress this year and am aware that I don't want to lose the momentum, but the BTCC demands 100% focus, but I want to be there to support Liz. It is great to see fellow PMR Driver and local hero Dave step in for Knockhill, he has an excellent track record there, and I can't think of anybody I'd rather have to keep the seat warm."
Newsham commented,
"I've loved racing in British Rallycross this season but the BTCC has always held a special place in my heart, and when Adam approached me to stand in for Kelvin, I couldn't get the word yes out fast enough. The team and car were great last year and with the upgrades for this year; I can't wait to get back behind the wheel. Kelvin has made significant progress in the car this year but family is family, and we'll keep our ears open for baby news this weekend."
Adam Weaver, Power Maxed Racing Team Principal commented,
"Kelvin has been great this year, but we always knew that the birth of his first child would be close to the round in Knockhill so that a driver change would be a possibility. We're delighted to have kept working with Dave and when we knew we had to find a stand in, there was no discussion, Dave was the man for the job."
You can see full coverage of both PMR cars in action this weekend on ITV 4 and ITV.com