PMR & Newsham Withdraw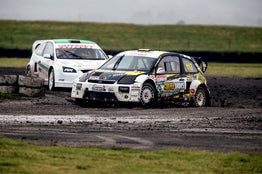 Power Maxed Racing have confirmed that they have departed from the British Rallycross Championship as driver Dave Newsham
sets his sights on a return to the BTCC for 2017. The team have formally withdrawn their entry and are exiting Rallycross with the Ford Fiesta Supercar being put up for sale.
The Scottish driver has prioritised a return to the BTCC, with his withdrawal allowing him to divert the budget to his 2017 BTCC return. The decision follows the guest drive in the BTCC at Knockhill. Newsham sites enjoying himself both on and off track as well as the commercial appeal of the BTCC for his sponsors and the reaction of fans.
In a meeting held after the last race between Adam Weaver, Team Principal and Dave Newsham, it was agreed that the BTCC is where Dave sponsors would get the most coverage. This meant a difficult decision had to be made about the Rallycross Supercar program, and it was felt that any further money spent on that was money Newsham couldn't put towards a BTCC return in 2017.
Dave Newsham commented,
" The response before I got to the track was overwhelming on social media and after I arrived, well it went to another level. I didn't think anyone would really miss me, but I couldn't have been more wrong, thankfully."
With Newsham's racing paid for through sponsorship, it has become abundantly clear that the BTCC paddock was the best place to deliver the best return on investment for his commercial partners.
Adam Weaver commented,
"It's a shame to withdraw from British Rallycross as it is such a strong championship but I completely understand Dave's decision as we too are massively subsiding the RallyCross drive. The cars are extremely expensive to run; they're like works rally cars! We have invested close to £50,000 in car developments, £30,000 on engine upgrades, new wiring loom, ECU, dash then plenty of labour on top!"
Dave Newsham remarked,
" It's a shame as Rallycross is so much fun and the car is very competitive now, I've taken heat wins, seconds and thirds. With the early teething issues ironed out now, it is in the perfect place for somebody with the right budget to challenge for the championship. It simply needs a new livery and you'll have virtually a brand new car!"