3 points finishes and pace at Silverstone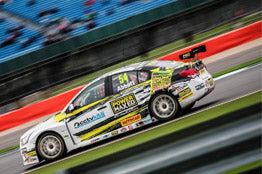 Power Maxed Racing were at Silverstone last weekend for the penultimate Dunlop MSA British Touring Car Championship meeting and with Fletcher back from Paternity
and Abbott focused on results, the team showed great pace and bagged three more points finishes.
It was Abbott who stole the show for Power Maxed Racing as he yet again qualified within the top ten in eighth. He had been on the pace all session sitting sixth for the majority of the session. On his return to the BTCC following the arrival of his first child, Fletcher was on the pace from the outset. Working alongside driver coach Martin Plowman, he was showing steady improvements in his times. During qualifying, he was all set to hit his target of 15th until a red flag stopped play meaning he had to settle for 19th. Fletcher was still able qualifying one place ahead of title contender Matt Jackson and less than a tenth behind championship leader Sam Tordoff.
Both PMR drivers were out on soft tyres for race one. Abbott started 8th with Fletcher P19, his best start position during his rookie BTCC season.
Abbott got away well, and while avoiding early on track action, he dropped back to 13th. Fletcher was welcomed back with a bump having contact with both Lines and Gilham. Following contact with Lines, he was fired off the track only to be collected by Gilham, with the resulting contact damaging the rear suspension. Fletcher battled on to rejoin in 27th but had to nurse a heavily crabbing car for the rest of the race.
As the laps ticked away, Abbott maintained position in 13th, behind the Honda of Depper. A battle commenced ahead of Abbott who avoided the melee which resulted in Depper's Honda losing a wheel in the gravel trap. Abbott crossed the line in 15th behind the BMW of Goff with Fletcher limping his damaged Chevy back in 25th.
Race 2, Fletcher made a great start, making up a few places on the first lap but was on the receiving end of heavy contact on turn two that broke the Chevy's rear tow link, causing the car to crab again for the whole race. The damage left Fletcher with no option but to limp around until the checkered flag as the car was over-steering wildly. Abbott got away and avoided first lap incidents, and engaged in a great battle with the BMW of Tordoff. With a few retirements and by battling well with Moffatt and the BMW's, Abbott crossed the line in 10th, to then await the reverse grid draw to potentially give Power Maxed Racing their first pole position of the season.
Race 3, With the reverse grid draw pulled at number 8, Abbott lined up in 10th with Fletcher in 23rd. The lights went out with both Chevrolets getting away well. Fletcher received yet another unnecessary smack from behind, resulting in a bent exhaust and losing two laps before getting his Chevrolet going again. Abbott maintained his pace in 11th, chasing the front pack but unfortunately his progress was halted after contact between the two MG's pushed him wide, causing him to haemorrhage positions but able to finish in the points for the third time in the day.
Fletcher commented,
"The first half of the weekend showed so much promise, we worked hard, and I was pleased with my pace during FP2 and qualifying. Even though I got caught in traffic, I was confident that I could have found three-tenths and been closer to the top ten, well within my target of the top 15."
Fletcher continued,
"Luck just wasn't with me on Sunday, again I seem to have a large target on the back of my Chevrolet with each race bringing unnecessary contact damaging the car. The impact in race three that it bent my exhaust on the first lap! Despite these incidents, I am feeling confident for the final round at Brands. My focus is getting further up the grid in quali, so I should hopefully get away from the heavy-handed contact at the back of the grid."
Abbott commented
"After another strong qualifying in 8th I was fired up and raring to go. I didn't get the start that I wanted in race 1 and had to battle for position on the soft tyre which dropped off quite severely. It was critical to get a good finish in race two, which I did by finishing tenth, but the reverse draw didn't go our way. Contact from Sutton in race 3 caused me to lose a bunch of places which was frustrating. However, we did bag three points finishes. The PMR Chevrolet was on pace this weekend and it is only a matter of time before we get the podium the team deserves, so it is onwards and upwards to Brands in two weeks time."
Adam Weaver, Power Maxed Racing Team Principal commented,
"I feel like a broken record, how many times do we have to tell the same story of unnecessary damage and ruined races as our drivers are taken out by the same names. I would love to see TOCA follow through with their post-Snetterton promise of race bans for persistent offenders, for the good of everybody in the championship, Mark Howard for one does not yet deserve his place on the grid."
Power Maxed Racing will be back for the final round of the Dunlop MSA British Touring Car Championship at Brands Hatch in just under 2 weeks time. Full coverage is available on ITV4.