Tom Chilton signs for PMR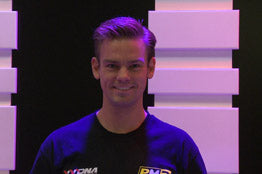 Power Maxed Racing are delighted to confirm they have signed Tom Chilton as their second Vauxhall Touring Car Driver for the 2017 Dunlop MSA British Touring Car Championship. Chilton is not only a BTCC fan favourite, race winner and former champion but he is also a highly successful FIA World Touring Car driver.
Chilton, 31, brings vast experience and success to the debutant manufacturer team, with his background including success behind the wheel of the Vauxhall Astra during its last manufacturer outing with VX Racing.
Scoring 12 BTCC wins, 45 podiums and 10 poles, Tom is an experienced front runner and will join the Power Maxed Racing Vauxhall team-mate, BTCC rookie Senna Proctor. After leaving the series on a race win at Brands Hatch, Tom is looking to pick up where he left off!
It has been a busy offseason for Power Maxed Racing who will return to the grid as a manufacturer after signing a partnership deal with Vauxhall followed by the first driver signing, Ginetta Vice-Champion Senna Proctor.
The team is now complete and are working tirelessly to complete the Astra build to get out testing in the new year.
Tom Chilton commented;
"I am delighted to be back in the BTCC, I have continued to watch as a fan while racing in World Touring Cars and the itch to get back behind the wheel on British soil has never gone away. So you can imagine how excited I was when Adam got in touch, plus to get to return in a Vauxhall Astra, a car that I know and love is a dream. I am confident that Power Maxed Racing will be front runners and scoring podiums, the team are fantastic, and I can't wait to get behind the wheel".
Adam Weaver, Power Maxed Racing Team Principal commented;
"I have known Tom for a while now and followed his career with interest, which has now paid off. His experience and work ethic is second to none, he knows what's coming and will be a great role model for Senna as well as a proven race winner. We knew last year that we had the ingredients for success but like a cake you can't rush it, but maybe, just maybe this year we can have our cake and eat it!"
Alan Gow, BTCC Series Director, commented;
"It's really great to see Tom back in the BTCC - and securing a driver of his undoubted speed and experience shows just how serious Power Maxed are about their Vauxhall programme."
Power Maxed Racing are well down the road with the build of the pair of Vauxhall Astras and has a packed build and test schedule between now and the first round of the BTCC in April. The reveal of the Vauxhall Astras in their full livery will be at the British Touring Championship season launch on March 16th, 2017.
For press enquiries, please contact Adam Weaver Managing Director Automotive Brands Tel - 01789 330668