PMR bring home the silverware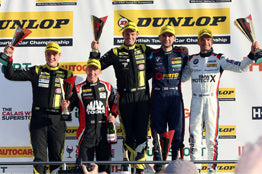 The Power Maxed Racing Vauxhall Astra made its debut this weekend in the opening round of the 2017 Dunlop MSA British Touring Car Championship at Brands Hatch. In an impressive first
outing for PMR both Chilton and Proctor scooped podiums, points and silverware, as Chilton took 3rd in race 3, Proctor received the Jack Sears Trophy, and PMR was awarded the manufacturers trophy for round one.
Both PMR Vauxhall Astras took to the track on Saturday afternoon for one of the most disjointed qualifying session in recent history. Qualifying was punctuated with red flags and highly changeable weather seeing the sunshine replaced with a frantic downpour. Twinned with the session being stopped twice resulted in an unpredictable grid, with Chilton qualifying 12th and debutant Proctor placing 16th.
PMR Brands Hatch Race 1
Race one started in the spring sunshine of Brands Hatch. Both PMR Vauxhall Astras got off to a clean start with Proctor making up two places on the first lap and Chilton slipping back a place. Lap 6 saw Chilton claw back to 12th passing Simpson. By Lap 13, Chilton had climbed to 10th while Proctor had slipped marginally to 17th, where both drivers stayed until the chequered flag fell, Chilton in the points and Proctor claiming the Jack Sears honours for that race. It was also the turn of PMR to collect some silverware as they were awarded the manufacturer's trophy for race one.
Senna Proctor commented,
"It has been a good start to my first ever BTCC race. The car felt good and went well, plus we landed top rookie and top manufacturer."
Tom Chilton,
"I'm happy with the car, I'll take a top ten for the first outing. I'll make no outlandish claims but watch this space."
Race Two followed shortly after lunch and with Chilton starting 10th and Proctor 17th. Hopes were high to see the new PMR Astra's work their way up the grid. Both drivers avoided the start line shenanigans that saw the red flag and the race restarted. True to form, both drivers left the line well and were in the thick of the action. Proctor was making the most of his soft tire and made up two places on lap 3. Both drivers profited after the demise of Sutton and Proctor pushed on moving past the MG of Taylor-Smith. The safety car was deployed mid-race again, assisting Proctors soft tyres, giving them time to cool. Chilton took first blood after the restart passing Goff to take 9th. Both drivers continued to battle for places, Chilton 9th, Proctor 13th, both in the points with Proctor taking the Jack Sears again.
Tom Chilton remarked,
"I got a poor start in relation to the rear wheel drives, Plato flew off the line. I got a better restart after the red flag. The car felt awesome as we'd set it up for a strong second half of the race. We got the balance just right as the fronts went off; we finished with a great little car."
Senna Proctor commented,
"I got a good start on the restart and held my position as the soft tyres came in. The car felt excellent, and the safety car halfway through gave the tyres time to cool. It's a great feeling to get my first BTCC points in my second race and another step towards the Jack Sears."
The big question was where would the reverse grid be pulled for round three, to the team's disappointment, number 8 came out of the hat meaning that Chilton would start 9th. However, PMR's luck returned after Rob Austin was excluded from the results of race 2, promoting Chilton to 8th and receiving pole position for the final race of the day.
Chilton had elected to use soft tyres for race 3, and the track temperature had cooled considerably. Chilton got a great start off the line, but the rear wheel drive of Jordan beat him to the first corner. He held on the back of the BMW, but as a true gentleman, he wanted to pass cleanly or not at all. Chilton continued to pressure, but as his soft tyres started to go off, he succumbed to the pressure of Turkington behind him on lap 18 but drove an intelligent and accomplished race to finish 3rd and get the PMR Vauxhall Astra's first BTCC podium on its BTCC debut.
Senna had a hectic race and was in the thick of the action, but testament to the 18-year-old in his third ever BTCC race, he drove with his head and passed the line safely, if not slightly bruised in 19th.
Tom Chilton remarked,
"I got a good start but the rear wheel start of the BMW is renowned, and Jordan beat me to the first corner. I pressured for the first four laps but wanted to look after the soft tyres as well as get away from the pack behind. All was going to plan until Turkington caught me on lap 18, I wanted to finish with a podium for the guys at PMR, so I let him past and hung on to his tail to finish third. A great race for the team at PMR and it's awesome to be back on the podium with Vauxhall again in the BTCC."
Senna Proctor commented,
"It was one hell of a hectic race, I focused on finishing and bringing home the Jack Sears Trophy for this meeting. I received an almighty whack from Taylor-Smith that flat spotted my tyres, compromising my pace but I achieved my goal of finishing all three races and bring home the Jack Sears."
Adam Weaver, PMR Team Principal, commented,
"I am thrilled with this weekend, the team have worked so hard over the winter and for them to be rewarded with a great bunch of results is fantastic. Tom drove brilliantly, we know he is a class act, and he showed his pace and maturity today, and Senna is one to watch. We have a proud tradition of spotting young talent, and Senna has not disappointed, we are thrilled to have two strong drivers in our brand new Vauxhall Astra's."



center>
PMR and their trophy winning Vauxhall Astras will return in two weeks time at Donington Park; full coverage is live on ITV4.
Photo © Jakob Ebrey.
For press enquiries, please contact
Ben Snowdon
Plan B Racing
Tel - 0788 980 4226