PMR bag Jack Sears Trophy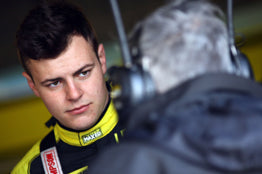 Power Maxed Racing were in action today in the second round of the Dunlop MSA British Touring Car Championship at Donington Park for rounds 4, 5 and 6. In a bruising
weekend, both Chilton and Proctor showed grit, determination and level heads to make the best of a somewhat chaotic race weekend, bag points and the Jack Sears Trophy for Power Maxed Racing.
The pair had a solid Saturday in the Vauxhall Astra's for both free practice sessions and qualifying that saw Tom Chilton line up for race one on P12, with teammate Senna Proctor starting back on row ten.
Sunday morning brought typical British bank holiday weather, with overcast skies and a chill in the air. Just after 11 am, the silence shattered as the entire BTCC grid charged to the first corner. The usual first corner carnage followed, however, both PMR Vauxhall Astras made it through with Chilton in sixteenth place and Proctor down to twentieth. Proctor was on a charge and regained a place on the next lap. Meanwhile, Chilton was involved in a battle that would last several laps and came to a crescendo on lap 5 when the former PMR Chevrolet Cruze of Smiley collided with Chilton putting both drivers out of the race. All eyes in the garage turned to Proctor who was on a charge, climbing place after place over the coming laps. The finest move of the day was when Proctor passed the BMW of Jordan, by switching back and driving around the outside of coppice, a very brave and bold move for the young BTCC rookie.
The grid formed for race two with Proctor in 14th and Chilton in 28th. All drivers got off to a clean start, but then Proctor was involved in a minor incident that knocked his tracking out and pushed him back to 23rd. With the car handling irregularly, Proctor fought his way back up the grid with a determined drive and was up to 14th by the final corner until he was tagged, sent wide and crossed the line in the battle scared Astra in 19th.
Chilton, however, had different fortunes, like a man possessed, the highly experienced touring car driver charged up the grid with purpose. In a drive worthy of the history books, he took his time and passed cleanly as he scythed up the field. Chilton took place after place on each lap, making 18 places up in 16 laps and across the checkered flag in tenth and again in contention for the draw for the reverse grid.
After a somewhat spring-like day, a freaky cloud burst hit Donington Park and forced the teams to switch to wets as they headed to the grid. With poor visibility and torrential rain, the race got underway, only to be stopped after four corners when a third of the field lost control and left the track. After a lengthy delay, the race was restarted and with the sun low in the sky and spray impeding the driver's visibility. All cars got off to a safe start, and the door handle to door handle racing commenced. It was Chilton who showed early pace in the wet conditions holding his own while Proctor found his feet dropping a few places. After lap 6 however, it was Proctor who showed signs of a comeback climbing from 16th to catch the back of teammate Chilton. Proctor had stronger pace, so the pair traded places leaving Proctor to set about catching the cars ahead. Proctor crossed the line in 11th, with Chilton in 15th. Thankfully both cars were in one piece after an eventful last race of the day.
Tom Chilton commented, "It has been a very physical weekend, in true BTCC style, I don't think there is a straight panel left on the car. Race one is one to forget, however, race two was mega. I loved cutting my way through the field, the car felt great, and it was a welcome return to the good old BTCC. Race 3 was a big learning curve; we put different set ups on each car. The good news is we found a set-up that works in the wet; the bad news is it was not on my car. Still, I bagged a critical 8 points which aren't a bad consolation. Race 2 was his second best race ever in terms of overtakes; my best performance was also in Vauxhall Astra many years ago."

Senna Proctor commented, "It's been tough this weekend, it is nice to be disappointed with mid-table finishes, it shows what potential the BTCC Vauxhall Astra has. Still I am leaving Donington with my second consecutive Jack Sears Trophy win. My focus is now on Thruxton which is a unique challenge and one that I am looking forward to taking on in a touring car."
Adam Weaver "It's been another proud weekend for Power Maxed Racing, not only have we had more than our fair share of points scoring finishes, but Senna has also scooped the Jack Sears for PMR and Tom has also done some fantastic development work on the PMR Vauxhall Astra. So, all in all, we escaped a very physical BTCC weekend with points in the bag and further development of the brand new Astra's."
The BTCC returns at Thruxton on the 6th May.
Photo © Jakob Ebrey
For press enquiries, please contact
Ben Snowdon
Plan B Racing
Tel - 0788 980 4226