Tough times at Oulton Park for PMR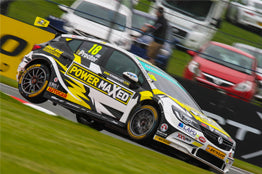 Vauxhall Manufacturer supported team; Power Maxed Racing were in action this weekend at Oulton Park for the latest round of the Dunlop MSA British Touring Car Championship.
Despite some adverse weather conditions for the Vauxhall Astras, with the team expertly avoiding any major incidents, Proctor gave his all and achieved a well-deserved points finish.
Qualifying was marred by torrential rain leaving the whole grid struggling to find the right setup. Nevertheless, Proctor put in a sparkling performance to qualify 10th only to have his time disallowed by the stewards seeing him ultimately end up in 16th place. With the whole grid separated by just a second and a half, it meant a slight miscalculation which unfortunately and uncharacteristically saw Chilton placed at the back of the grid.
Race one kicked off with beautiful weather gracing the Cheshire circuit. With Chilton starting at the back of the grid and teammate Proctor firmly in the middle of the grid, both Power Maxed Vauxhall Astras got off to an impressive start with Chilton making up five places immediately. The almost obligatory first lap collisions shuffled the pack, dispatching Morgan and Ingram, to name but a few. But by lap 3, Proctor had unfortunately slipped back one place to 17th, but Chilton was a man on the move progressing to 22nd place. Oulton Park is renowned for its tight overtaking, but lap ten saw Chilton climb yet another place. With Turkington and Ingram retiring, both PMR drivers promoted one place which put Proctor in the points in 15th and Chilton in 19th place on the penultimate lap, which is where they crossed the line. Unfortunately, to add to Chilton's woes, he was penalised for an incident with Will Burns meaning a start at the back of the grid for race two.
Suspense mounted as race two was delayed as Adam Morgan's Mercedes caught fire on the pit lane the grid reformed and the race got underway with a few fast starters making their way from the back of the grid. Both PMR drivers survived the first lap with Proctor holding in at 15th and Chilton gaining four places to 28th. Lap 4 saw Moffat spin his Mercedes and rejoin behind Proctor who was then promoted to 14th place. Meanwhile, on lap 7, Ingram and Cole collided shifting Chilton up to 25th and Proctor maintaining his place in 14th. Chilton made further progress on lap nine seeing him pass the Honda of Simpson to get to 24th. Proctor was then locked in a battle with fellow Jack Sears' competitor Price in his Subaru, but the young PMR driver demonstrated his expertise to keep the Subaru at bay after a robust bit of racing at the Island Hairpin. But the excitement didn't end there as Smith, Turkington, Proctor, Moffatt and Price were entwined in a last corner battle. Smith spun withthe rest of the pack narrowly avoiding him, but then Moffatt nudged the back of Proctor's Astra causing the young PMR driver to spin dramatically across the line. A fantastic example of car control was displayed, but it did cost Proctor four places to cross the line in 18th with Chilton not far behind in 24th.
The Power Maxed Racing team worked tirelessly to fix the damaged Astra of Proctor and get it ready so both PMR Astra's could take their place on the grid for the final race of the day. Both Astra's got off the line well with Proctor just loosing one place to Smith in 19th while Chilton held onto 24th place. But action started to unfold on lap four as Chilton gained three places to 22nd and Proctor gained two positions, shifting him to 17th. Cook retired on lap 5 to promote Proctor to 15th and Chilton to 21st place. A collision with the wall on lap eight by Moffat, saw a promotion of the PMR pair to 14th and 20th places. The safety car then bunched the pack, and on the restart, Proctor benefitted from Goff's demise to put him directly behind Jack Sears' Trophy rival, Davenport, with four laps to go. Lap 16 saw Proctor fall to 17th as Newsham made an optimistic pass and pushed him wide. With Taylor-Smith losing out on the last lap, Proctor finished in 16th and Chilton in 19th place.
Adam Weaver commented, "It's been a tough weekend for the team at Oulton Park. We don't seem to have had luck on our side, but that is just the way it goes some weekends. It's disappointing that those who don't spend the money on offseason development, complain loudly enough and benefit from a massive boost of power, where is the incentive for those wanting to enter the championship and compete fairly with well-prepared cars when we will get it wiped out with more boost. The team have taken everything that the weekend has thrown at them and we will come away stronger because of it. Onwards and upwards, as they say."

Senna Proctor remarked, "It has been a demanding weekend. I am proud of my great qualifying lap; it's a shame it was disallowed, but we all have to respect the rules. I can honestly say I have never crossed the line backwards before and have given it my all this weekend, and I'm proud to have left nothing in the tank. Getting a points finish is some consolation, but all eyes are on Croft in 3 weeks time."

Tom Chilton reflected, "It is fair to say that it has not been my weekend. But that's motorsport. I had a great time in the WTCC last weekend and then a rubbish weekend, but that is just the way it goes. The best thing is to draw a line under it and look forward to Croft. I want to thank the team for their support and hard work. They are a great bunch, and without them, we would be nowhere."
The Dunlop MSA British Touring Car Championship returns in three weeks' time as they visit the North East's Croft Circuit. Full TV Coverage is available on ITV4 with highlights of this round shown throughout next week.
Photo © Jakob Ebrey.
For press enquiries, please contact
Ben Snowdon
Plan B Racing
Tel - 0788 980 4226