Points at Knockhill. At a Cost.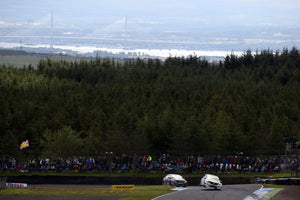 Power Maxed Racing headed North for the only Scottish round of the 2017 Dunlop MSA British Touring Car Championship season at Knockhill. 
With both PMR Vauxhall Astras showing pace during the free practice and qualifying session, all eyes were on the first race of the day. Birthday boy 19 year-old Senna Proctor came out top in the hectic session with his best ever position in 7th with Chilton 16th. Typial action packed BTCC racing followed which saw Proctor secure his best ever Touring Car finish and the Jack Sears Trophy but at a cost after sustaining heavy damage during race two. 
The Scottish circuit brought its challenges with unexpected rain during qualifying forcing the teams to switch to slicks and wet set ups. With two red flags to allow for barrier replacement, the track began to dry, and both PMR drivers were putting down quick times, with just enough on the clock to switch tyres. Chilton showed his experience, put the Astra on pole, followed by team mate Proctor who put in two personal best sectors, securing 2nd as the flag fell. However, with several front runners still to cross the line, tension grew and Proctor secured 7th, the best qualifying result for the BTCC rookie. Chilton followed in 18th after being impeded by a flying barrier on his last lap. 
Sunday brought sun-filled skies and warm track temperatures to the northern circuit. Proctor lined up 7th on the soft option tyre with Chilton just a few rows behind. Lights went out, and both drivers made great starts. Proctor in 9th set about chasing the Honda of Shedden for 8th place and the battle behind gave him space to increase the gap behind to allow him to close in on Newsham to then secure another place for 7th. Chilton also on a charge was up to 16th by lap 11, hunting the MG of Taylor-Smith. With battles up and down the field both PMR drivers maintained a clean race to cross the line 7th and 16th respectively, for rookie Proctor, Knockhill saw his best finish and a trip to the podium to collect the Jack Sears trophy and extend his Trophy lead by over 100 points. 
As the PMR Vauxhalls rolled out for race two, little did the team know what would unfold. Proctor comfortably at home at the front and Chilton having the bit between his teeth and on the soft option tyre, was ready to monster up the grid so all was set for a great PMR show. A mixed start from Ingram saw a close battle with Proctor and Neal on the start-finish straight when a late-braking BMW of Jordan slammed Neal's Honda causing him to nudge Proctor into a spin on the run down Duffus Dip. The pack scattered at full race pace but with the narrow, twisting Scottish circuit, contact was unavoidable. The Ford of Jelley, who was out wide to avoid a spinning BMW and Chevrolet, collided into the front end heavily of Proctor's Astra, causing significant damage for both drivers and a trip to the medical centre where thankfully the drivers were given the all clear. With seven cars involved in the incident in total, the red flag was shown, with Chilton safely through the carnage ready to line up for the restart. 
With all cars recovered but unfortunately not all on the track, the green flag waved. Chilton made a cracking start in 12th place and set about defending against the rear wheel dominated pack. Contaact ahead between Goff and Smith saw Chilton up to 10th. Chilton, however, keen not to get caught up in continuing battles and risk forced retirement, gave racing room to cross the checkered flag in 12th. 
With Proctor's damage-ladened car back with the team, they set about performing what can only be described as a miracle. Inspection of damage revealed a cracked gear box case, and debris from the incident had punched a hole in the engine, leaving the team with no choice but to replace both the gear box and engine with no time to spare. 
Hoping for an incident-free final race, both PMR Vauxhalls lined up for the start with Chilton 12th and Proctor 29th. Chilton with his elbows out was caught in a battle with Smiley which turned him sideways but was able to rejoin further down the pack. Proctor, on a mission, had made up three places with the repaired Astra holding its line. With the laps ticking down and the field spread, the appearance of the safety car gave both drivers the chance to move forward on the restart. Proctor who had fought up to 23rd was caught in more unnecessary contact, with a firm shunt to the rear quarter by Hill causing suspension damage but determined Proctor hobbled his Vauxhall across the line in 25th with Chilton ahead in 18th. A post-race reprimand for Hill saw him take three penalty points, a £500 fine and due to the third strike rule will start from the back of the grid for the next race at Rockingham.

Tom Chilton commented, "This hasn't been my weekend from start to finish. I topped the time sheet in qualifying with two minutes to go but then impeded on my final flying lap and the weekend went downhill from there. The team have given me a great car but what could happen did happen, and I will put this down as one to forget and move onto Rockingham". 

Senna Proctor commented, "It has been a weekend of two halves, I had a mega qualifying session and was going great guns in race one but true to form in the BTCC my weekend took a dramatic u turn at the start of race 2. The team did a stunning job to get me back out for race 3, they truly are world class, and it enabled me to make further progress in the last race of the day".

Adam Weaver commented, "It was all looking so promising, to have both cars at the top during the closing stages of qualifying and for Senna to secure 7th for race 1, was testament to his talent, Tom's experience and the team's hard work.  The Subaru's again showed unbelievable pace despite full weight, we knew that being front wheel drive would be a disadvantage at Knockhill but not quite to that extent. The incident with Senna in race 2 was something no team owner wants to see, and with that, the cost has a huge impact and something which is happening far too often. However we are not a team to look backwards, so onwards and upwards for the next round at Rockingham, where hopefully luck will join us and with that another crack at the podium."
The BTCC will return in two weeks time as the team head east to Rockingham; full coverage can be found Live on ITV4.  

Photo © Jakob Ebrey.

For press enquiries, please contact
Ben Snowdon
Plan B Racing
Tel - 0788 980 4226