Proctor Closes In On The Jack Sears Trophy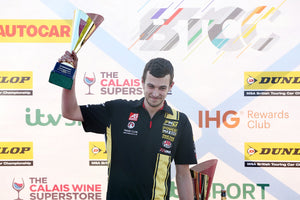 Senna Proctor of Power Maxed Racing has taken home the Jack Sears Trophy at almost every round of the 2017 season of the British Touring Car Championships (BTCC). But what exactly is the Jack Sears Trophy? 
Who was Jack Sears?
Jack Sears was the first ever BTCC champion, winning the championship in 1958 after a draw led him and Tommy Sopwith to decide the winner with a five-lap shoot-out, swapping the cars after five laps and then racing again. Sears had the quickest combined time, winning the championship by 1.6 seconds. 
What is the Jack Sears Trophy?
Originally, the Jack Sears Trophy was reserved for independent teams only, so that the typically more well-resourced manufacturer teams had the overall win but the independents still had something to aim for. 
In 2011, when the Next Generation Touring Cars (NGTC) were introduced, the Jack Sears Trophy was designed for the S2000-spec cars which remained on the track, again because the NGTCs were typically more powerful and more likely to win the championship. 
In 2013, S2000 specification vehicles were not eligible for the BTCC any more, letting NGTCs have the run of the track. At this point, the Jack Sears Trophy was given to the rookie who scored the most points throughout the championship. 
A rookie is any driver who has not competed in the BTCC in previous seasons. 
Who are the rookies in the BTCC 2017?
The rookies of note in 2017 include: 
Luke Davenport of the Motorbase Performance team in one of the Shredded Wheat Ford Focuses.
Josh Price in one of the Adrian Flux Subarus, no. 28.
Will Burns driving the Passat for Team HARD
Ant Whorton-Eales in the Audi A5 for AmD Tuning.
And of course, Senna Proctor, the top rookie as of present (31st August), who drives one of the Astras for Vauxhall's Manufacturer team, Power Maxed Racing. Currently, Proctor is 109 points in the lead for the Jack Sears Trophy of 2017, having already won the Trophy at two thirds of the races this year.