What An Awesome Weekend for PMR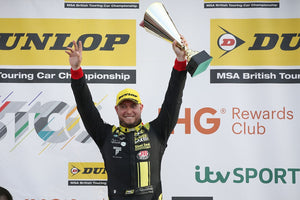 "Dream weekend" – Rob "Huffy" Huff, Power Maxed Racing Step-In Driver

"Really pleased Rob had a podium finish, and I had the fastest lap time; we know the cars are fast and it's brilliant to prove it." – Senna Proctor, Power Maxed Racing Driver

So, what actually happened? After an eventful Race 1 with Proctor and Huff climbing from 25th and 26th to 15th and 16th respectively, and a good Race 2 with Proctor on his hard tyres struggling at the start but making places throughout the race whilst Huff climbed into the top ten with a solid 8th place, Race 3 was set to be thrilling. 
 
Further to his 8th place finish, Huff was positioned second on the start line through the Reverse Grid Draw, making Race Three even more likely to end with another podium for PMR. 
 
The lights went out, and with an incredible start Huff flew off the line, immediately passing previous PMR driver, Pole Sitter, Dave Newsham in the Chevrolet to take first place, all within seconds of the race start. There he stayed, gaining more and more pace over the rest of the pack, until in Lap 4 the safety car caused the racers to regroup. 
 
By the time the safety car came in on Lap 8 (7 laps later), Huff did his best to use the element of surprise to replicate his flying start on his hard tyres. When Newsham was taken by Ingram in the Avensis on the soft tyre in Lap 9, the front end of the race became increasingly more exciting. 
 
Several positions were swapped behind Huff in the aesthetic red-bonneted Astra until Ingram tried to squeeze past him only to be put back firmly into second place thanks to some relentlessly defensive driving from Huff.
 
By Lap 16, Neal had made his way up to behind Huff who was holding him off for a good few laps, until unfortunately Neal made it past on his faster and softer tyres on Lap 21 with only 4 laps to go. The softer compound tyres of Neal's Honda excelled this late in the race and carried him forward, keeping Huff in second place which is where he crossed the line, to the celebrations of the entire PMR garage. 

 
Meanwhile, Proctor started the race in 22nd place, and managed to artfully dodge a tail-swipe by Plato, who was beginning to spin as a result of a nudge by Jelley who was knocked out of kilter by a sideways shunt by Turkington. By the time the safety car left the track, Proctor had made 16th place, and only progressed from there. 
 
By Lap 11, Proctor had gained two more places with Taylor-Smith and Depper in front who he subsequently took on Lap 14 to make 12th place. 
 
Lap 17 saw Proctor take 11th place from Taylor-Smith and sit behind Epps, who seemed to be doing a bad job of blocking the track for the PMR Astras this weekend. But, by Lap 19, Proctor had made it to tenth place where he stayed until activity within the large pack caused him to fall back to 18th, where he crossed the line at the end of the race proudly bearing the fastest lap of the entire race showing for sure that if Rob had been on the softer tyre it would have surely resulted in the first race win for the Power Maxed Racing Vauxhall.
 
"I have loved every minute, I had no real expectations, having been out of the BTCC for so long and never having driven the Vauxhall Astra prior to this weekend, so it's brilliant to be on the podium, and considering I could only drive the car PMR gave me, they all deserve full credit for developing something so capable of taking the podium. We've made progress in every session, and I know Senna is pleased with the developments I've helped to suggest for the cars, so hopefully the team can use this knowledge to excel at Brands Hatch in a couple of weeks when Tom (Chilton) is back in his seat. Maybe they can get that win - they definitely deserve it." – Rob "Huffy" Huff, Step-In Driver for PMR
 
"I am so proud of the team this weekend as I am every weekend; the progress we've made in developing both Astras has been unbelievable, especially considering where we left on Saturday night, to take home both the Jack Sears Trophy (Championship) from results by Senna in Race 1 and then a podium finish from the final race of the day having led for most of the race is almost everything we could have hoped for. It's set the bar higher again, so see you in two weeks' time where we plan for more celebrations." – Adam Weaver, Power Maxed Racing Vauxhall Team Principal
Photo © Jakob Ebrey.

For press enquiries, please contact:
Phoebe Kingdon
Power Maxed Racing
Tel - 07714 669318