Karndean Keen to Help PMR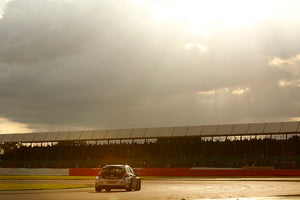 As one of the UK's leading suppliers, the Evesham-based company are not only local to the team's HQ but are a respected household name when it comes to all things flooring. 
Karndean is already the brand of choice in millions of homes and workplaces, offering a wide selection of authentic wood and stone luxury vinyl floor designs.
Karndean flooring will be used throughout Automotive Brands' buildings; in their offices at their new 26,000 square feet production facility and in the reception of their brand new high-end vehicle servicing business where many Power Maxed products are used, as well as their existing head office.
Factory Vauxhall BTCC Team, Power Maxed Racing (PMR) had plentiful cause for celebration last weekend at Silverstone, as guest driver Rob Huff (standing in for BTCC legend Tom Chilton) took the car to second place in a truly edge-of-seat kind of race, securing their place in the championship. The driver of the second PMR Astra, Senna Proctor, scored himself enough points in the first race to win the coveted Jack Sears Trophy for best Rookie, proving that the whole team has what it takes to win.
"We're pleased to have teamed up with Karndean for both the final round at Brands Hatch next weekend and the whole of the 2018 season. Karndean stands for the same values as Power Maxed – extreme quality products and very happy customers – so it's a perfect fit. This is an exciting time for us as a team, and with them on board even more so." – Adam Weaver, Team Principal of Power Maxed Racing Vauxhall Manufacturer Team
Spectators will see the Karndean logo on the cars at this weekend's BTCC final at Brands Hatch. Both companies' literature will be available on the Power Maxed trade stand.
Power Maxed Racing are open to partners as symbolised by the change in the bonnet livery on both cars during the penultimate races at Silverstone on the 17th September. 
Any potential partners should contact 
This email address is being protected from spambots. You need JavaScript enabled to view it.
 for more information. Sponsorship benefits include hospitality, vast reach and additional marketing assistance from Automotive Brands.