Race 2 Summary: Brands Hatch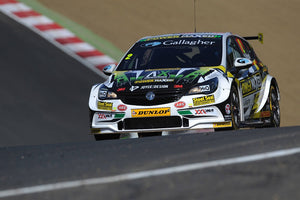 Race 2 started with a warmer track and the option, soft tyre on both Astras, with wet tyres at the ready in case of the changeable weather.

Both PMR drivers were carrying success ballasts, Tom Chilton with 39kg and Senna Proctor with 33kg. Particularly for Proctor, who finished Race 1 in his highest position of the 2017 season of the BTCC, this was a new hindrance with which to work.

The beginning of Race 2 was highly successful with both Astras sitting comfortably in 4th and 5th place (Senna in front) after the initial start-of-race elbowing, with Moffat, Ingram and Jackson taking the prime spots.

They stayed this way until Lap 6 when a reshuffle and some competitive driving resulted in Sheddon's Honda overtaking Senna and allowing Neal and Turkington through too, pushing Senna back to 7th and then 9th before the lap was out.

It wasn't until Lap 7 that Chilton was struggling to keep Sheddon off his own tail and was eventually overtaken by Sheddon and Neal, pushing him back to 6th place. Meanwhile, Proctor had fallen back to 10th place, the going out there getting increasingly rough. The two stayed in their respective positions throughout Lap 8.

Lap 9 saw Chilton fall back to 7th and Senna being pushed wide by the pack surrounding him, which contributed to his fall back into 13th place during Lap 10. Newsham's Chevrolet left the track.

By Lap 12, Tom had fallen back to P8 behind Sutton, whilst Senna moved back another position to P14. Luckily, the number 2 Astra managed to move forward to P7 again in Lap 14. For the remaining three laps, Chilton and Proctor held their positions to finish 7th and 14th respectively.

As this is Race 2, the reverse grid draw, craftily designed to mix up the competition, has placed Chilton 4th on the grid for the start of Race 3. This should help make for an interesting race to finish off the season.
Cover Photo © Jakob Ebrey.
Photo © Tim Glover.
For press enquiries, please contact:
Phoebe Kingdon
Power Maxed Racing
Tel - 07714 669318