Vauxhall Trade Club Continues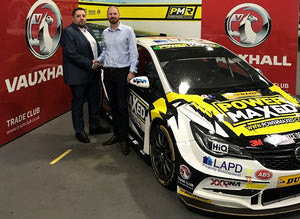 BTCC Team Power Maxed Racing have announced their continued partnership with the Vauxhall Trade Club, the Aftermarket Vauxhall Parts Factor for the 2018 season.
After a successful first year with the new Astra, PMR are looking forward to representing Vauxhall again in the championship next year, year 2 of their 3-year deal.

Adam Weaver, Team Principal for Power Maxed Racing states, "It was great to be the team bringing Vauxhall back to the BTCC, and we had some pretty phenomenal achievements considering the unknown territory of new cars and new drivers. We're all working hard and very excited by what 2018 has to offer."

Vauxhall Trade Club have been pleased with the results of the partnership in the 2017 season, which included both digital and offline coverage, VIP hospitality and positive internal communications.

"It really was a no brainer; it increased our awareness nationwide, we gained many more Trade Club members and our VIP hospitality guests had an incredible, action-packed time. I can't wait to see what the team can achieve in the second year with the new Astras." - Chris Downing, Aftersales Product & Pricing Manager for the Vauxhall Trade Club
Power Maxed Racing made some sizeable achievements this year, with the most noteworthy being the Jack Sears Trophy, which was brought home nicely by Senna Proctor, BTCC rookie. Another PR dream was when unfortunately touring car veteran team driver Tom Chilton could not participate in the penultimate race weekend at Silverstone, and Rob Huff, World Touring Car Champion, stepped in and achieved second place in Tom's Astra.

It will be very interesting to see what developments occur at PMR over the winter in preparation for the 2018 season; stay tuned here for the latest news.