Power Maxed Racing sign Dave Newsham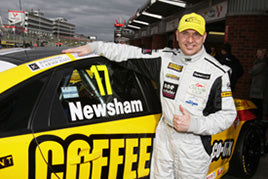 BTCC team Power Maxed Racing are proud to announced the signing of 2014 Jack Sears Trophy winner and BTCC race winner Dave Newsham. Newsham will race in the teams first year under new ownership and will be behind the wheel of the number 17 Chevrolet Cruze Saloon for the 2015 season.
This will be the first year for the Warwickshire based Power Maxed Racing since they purchased the team from BTC Racing. Having already confirmed that they will be running a Chevrolet Saloon chassis for 2015 racing under number 17, they are currently exploring options to run a second car. 
Dave Newsham was awarded the Jack Sears Trophy in 2014 which recognises the number of overtakes a driver makes in a season. The format was changed in 2014 to highlight these real racers who will challenge and take positions and Newsham took this title in 2014 beating off touring car legends including Alan Menu and Fabrizio Giovanardi. 
Dave Newsham stated, "I'm over the moon to be racing with Power Maxed Racing in 2015. The teams professionalism and it's new ownership  is fantastic. Adam Weaver and I have discussed our objectives at great length and we are both heading in the same direction." 
Newsham continued, "I believe we will have a great platform for success in 2015. There are some exciting plans that will be revealed over the next few weeks that will mean we are at the sharp end getting more exposure for our sponsors." 
Adam Weaver, Power Maxed Racing Team Principal commented:
"Signing Dave is an important part of our master-plan for 2015. Dave is an exceptional racer, you only have to look at his track record and race wins, podiums and the Jack Sears Trophy to see why signing Dave was a no brainer."
Weaver continued, "Chris Stockton has given us a great platform, he did lots of hard yards last year to enable us to hit the ground running this season. It is important to note that without Chris and his input, we would be nowhere."
The ownership of Power Maxed Racing changed last week from experienced BTCC racer Chris Stockton to Automotive Brands, parent company of Power Maxed following Chris Stockton's decision to sit out the 2015 season to focus on his ever growing distribution businesses. 
Power Maxed Racing have a string of further announcements coming over the next few weeks.