Josh Cook Returns Home to PMR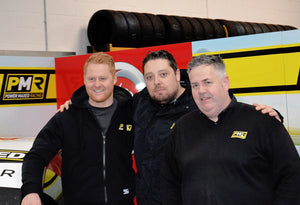 Bath-based BTCC ace Josh Cook has signed to compete in the 2018 season of the BTCC on board the PMR designed and built Vauxhall Astra.

After spending his rookie season of the BTCC with Power Maxed Racing (PMR), Cook raced for two other teams in 2016 and 2017 before making a happy return to PMR.

Josh Cook, "I'm so happy to be returning home to PMR. I always wanted to stay there after winning the Jack Sears Trophy with them in both of our first year in the championship, but things just didn't line up for all parties to do that." Cook adds. "They were fantastic in my first season and having watched them closely and visited the premises recently there's no doubt they've managed to improve massively; investment has gone in to all areas and the Astra looks so well built. I'm so excited."

PMR re-introduced Vauxhall to the BTCC with the European Car of the Year, the Astra, in 2017. Now with a year's worth of data for all circuits under their belts, and plenty of winter development, the team are confident of yet another substantial leap in performance.

The team were spurred on by Rob Huff's race win challenging performance (when filling in for Tom Chilton) at Silverstone, earning them a podium place in the penultimate race weekend of the 2017 season.

Team Principal Adam Weaver had commented, "We knew that we had designed and built a great car. Rob's feedback confirmed what we thought and helped prove that to everyone else. Alongside Tom, Senna did a fantastic job in his rookie season and won the Jack Sears Trophy with us and through no fault of his own, didn't get the results his pace deserved."

Weaver added "I am delighted to welcome Josh back to PMR. We are a very different organisation to those early days and Josh has also developed as a driver. I am looking toward a very strong season."

Commenting further, Martin Broadhurst, Race Director at PMR said "Josh is the first person confirmed to do their second season with us, albeit with a two-year break. I am confident that this continuation with existing relationships and knowledge between team and Driver will only lead to greater things with the results we know we are capable of."

The PMR Vauxhall Astra will be displayed in an interim hybrid livery at the Autosport show at the Birmingham NEC this week, indicating some of 2018's sponsors. The full 2018 livery will only be revealed at the Dunlop BTCC Media Day on 27th March.