Stockton To Sell To Power Maxed Racing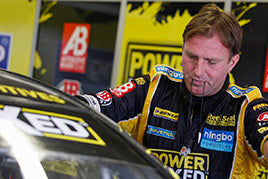 BTCC racer Chris Stockton has today confirmed the sale of his team, BTC Racing, to Power Maxed, part of Automotive Brands. Stockton will remain involved with the team moving forward but relinquishes ownership in order to focus on his growing distribution business.
BTC Racing competed in the BTCC in 2014 under the title of Power Maxed Racing, with Automotive Brands being the parent company for Power Maxed and other well known brands including J-B Weld and Steel Seal that have also featured in the BTCC.
The sale has the blessing of BTCC Series Director Alan Gow and sees the car, spare shell, transporters, spares package and equipment along with the highly sought after licence transfer to Automotive Brands ownership.
Chris Stockton commented, "I'm sad to be taking a backseat just as things are coming together. Unfortunately the old adage is true, you wait for a bus and two come along at once. My pallet distribution business is growing phenomenally and opportunities that just cannot be passed up on have been presented. It is just not possible to run a BTCC team, grow my business and race, and do all entities justice unfortunately."
He continues, "Automotive Brands and Adam Weaver personally have been incredibly supportive to the team and myself throughout 2014. I couldn't be happier that the team I founded and managed is starting its next chapter in such good hands, on the back of a huge amount of recent developments I learnt during 2014, I am sure that they will be successful."
Adam Weaver commented:
"Having been involved in the BTCC for the past three seasons, owning a BTCC team is a great strategic move for Automotive Brands. The team not only provides an ideal R&D platform for our premium range of products but the marketing benefit of being involved in such an iconic racing series is huge."
Weaver continues, "We're involved in many types of motorsport through our sponsorship development programme, however the BTCC is the pinnacle and will support our strategic marketing plans and further development of our premium products."
The team will retain it's Power Maxed Racing title for 2015 and will field a Chevrolet Cruze saloon with further plans in the pipeline to potentially run a second Chevrolet.