Milltek Sport & PMR join forces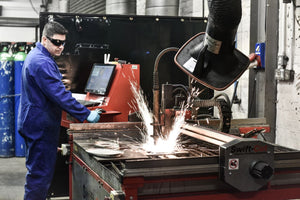 Power Maxed Racing (PMR) has today announced it's latest Technical Partnership with Milltek Sport's Special Projects division for the 2018 BTCC fight.
Keen to expand its relationship with the UK's premier domestic motorsport series, the British Touring Car Championship, Milltek Sport has announced that it has inked a deal with the Power Maxed Racing team. The deal will see Milltek's Special Projects division provide bespoke exhaust systems for PMR's pair of Vauxhall Astra K BTCC racers, alongside a plethora of supporting hardware from Milltek Innovations. 
Milltek Special Projects might not be a household name, but then that's kind of the point – it's Milltek's 'skunkworks,' home to all of the firm's most exotic and experimental offerings for both road and race cars. It's also the sector of the company that's been charged with providing PMR with a supply of one-off, clean-sheet exhaust designs, something rendered all the more significant by PMR's ever increasing levels of competitiveness in recent years.
Milltek Special Projects has form here, having created exhaust systems for a plethora of front-running BTCC outfits over the last few seasons. It has proved adept at working within the confines of the championship's carefully worded regulations to deliver its team's a tangible performance advantage, of key significance in a series as closely fought as the BTCC. Power Maxed Racing is very much a team on the ascendency, having spent the last few BTCC seasons 'learning its craft' and adapting to the hurly-burly nature of the UK's premier domestic championship. Josh Cook's decision to rejoin the team alongside Senna Proctor, undoubtedly one of tin-top racing's brightest stars, means that Power Maxed is well placed in the run up to the start of the 2018 BTCC season, not least as their Vauxhall Astras have shown strong pace and reliability.
Notably, both drivers are well versed with the Warwickshire based team, having been crowned Jack Sears Champions in PMR built cars. The trophy, awarded each year to the best newcomer to the series, is one of the most prestigious accolades in British motorsport. Josh Cook took the title in 2015, with Senna Proctor securing victory with 5 rounds left to run in 2017.
The partnership between Milltek Sport and PMR comes at a key point for both parties therefore, with the potential to catapult the latter further up the grid. Milltek will gain access to invaluable data, the kind that can only be acquired from a competitive race programme, and this will have a positive impact on both its race and road car exhaust ranges. Put simply, Milltek Sport's customer base will be just as well served by its expanded BTCC commitments as PMR. Another Milltek division, Milltek Innovations, will be charged with supplying PMR with a host of supporting hardware, the kind that's essential for the continued operation of a modern, front-running race team. This equipment includes tyre racks, jacks and other paddock equipment.
"Motorsport has long been an essential component of the Milltek Sport brand, one need only look to our existing BTCC and VLN commitments to see that," explains Steve Pond, MD of Milltek Sport. "We're nevertheless excited by the prospect of working with another touring car outfit, particularly one as competitive and forward looking as Power Maxed Racing. The engineers at Milltek Special Projects have been hard at work producing prototype exhausts for the Astras of Josh Cook and Senna Proctor, and we hope this will be the beginning of a long and fruitful partnership."
"As a fairly young team in the championship, we're incredibly proud to have the opportunity to work with Milltek. The BTCC is one of the most fiercely fought championships on the planet, and having Steve and his team as Technical Partners is exactly what we need to give us that extra competitive edge. We both see this as the start of a long-term partnership, that will see both sides working closely together to develop not just exhaust systems for both road & track applications, but products from Milltek Innovations" states PMR's Commercial Manager, Si McNally.
The 2018 BTCC season will be officially launched at Donington Park on the 27th of March, with the opening races at Brands Hatch on the weekend of the 7th-8th of April.