Zircotec & PMR announce inaugural technical partnership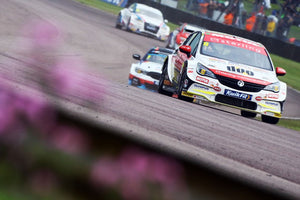 Zircotec Group today announced it's first & only BTCC Technical Partnership with British Touring Car Championship entrant and Vauxhall-backed Power Maxed Racing. 
The partnership aims to further develop high-performing, lightweight thermal barrier products to assist PMR in establishing a competitive advantage over its rivals.

"There is no better environment to test and develop our products than high-level motorsport," said Graeme Barette, Zircotec Group Sales Director. "We are delighted to announce this partnership with Power Maxed Racing as it provides us with an excellent test bed for our technologies. The team is highly-professional and eager to work with us, so we can help to improve the performance of their race cars."

Zircotec Group will be working closely with PMR to conduct a full review of the vehicle and identify areas in which its technologies can be effectively adopted to increase performance. Zircotec will be coating the exhaust system with its proprietary plasma-applied ceramic coating to increase exhaust flow and reduce under-bonnet temperatures. It will also be developing solutions to reduce air intake temperatures.

The driver is a critical part of the package and making sure their working environment is comfortable is important for overall performance. By protecting the firewall and transmission tunnel with ZircoFlex® heat shielding the temperature in the cockpit can be significantly reduced.

"Having excellent technical partners is key to moving forward in motorsport," said Martin Broadhurst, Power Maxed Racing Team Manager. "Zircotec are specialists in the field of thermal management and it is great to have them on board. I am looking forward to working with them to help develop their products and provide us with an essential advantage over our competition."

Zircotec's ceramic coating retains more of the heat generated within the exhaust system, which increases gas flow and improves engine performance. This is particularly beneficial for turbocharged engines, like that used in the BTCC.

Throughout the 2018 season PMR will be working closely with Zircotec, providing critical data so that it can develop and improve its technologies through its in-house R&D facility. The first BTCC race of the year is due to take place at Brands Hatch, Kent, on April 7th.

About Zircotec:

Zircotec is a specialist heat management company that was formally part of the UK Atomic Energy Authority, based near Oxford. Its expertise in thermal barrier technologies was originally developed for the nuclear industry and many of its scientists and engineers have remained with Zircotec since its nuclear origins.

The company's products include: proprietary plasma-sprayed thermal barrier coatings; exhaust system coatings; inlet manifold coatings; heat shield materials; wear resistant, anti-corrosion and aesthetic coatings; ceramic coatings and metal coatings for carbon composites and high-temperature plastics; and specialist plasma-sprayed ceramic products.

Zircotec increasingly provides consultancy in thermal management to leading motorsport teams, OEM vehicle manufacturers and companies operating in a number of fields, including the aerospace, marine, and oil and gas industries. It is accredited to ISO9001: 2008 Quality Standard. Further information is available at http://www.zircotec.com.