PMR Performance Centre Special Offers for March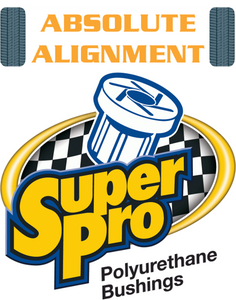 Continuing the launch of their unique Performance Centre, Power Maxed Racing (PMR) have announced TWO special-offers, utilising the services of Technical Partner, Absolute Alignment.
From today, right up until the end of March, customers will be able to take advantage of two great offers from the Warwickshire based professional motorsport team:
The first gives customers the opportunity to have their suspension setup checked by real BTCC mechanics. With a FREE wheel alignment check, the highly experienced team can tell straight away whether your setup needs adjustment, extending tyre life and improving fuel economy.
The second allows customers to have full 4-wheel alignment setup performed on their pride and joy COMPLETELY FREE. As a SuperPro stockist & dealer, PMR are able to both supply and fit the entire range of SuperPro uprated poly bushes & suspension components. Any SuperPro parts supplied & fitted by PMR during March will give the customer the opportunity to have a full 4 wheel alignment setup, using the team's state of the art Absolute Alignment equipment, completely free of charge*.
Prospective customers should call 01789 330727, or email
This email address is being protected from spambots. You need JavaScript enabled to view it.
for further details.