Successful BTCC Launch for Power Maxed TAG Racing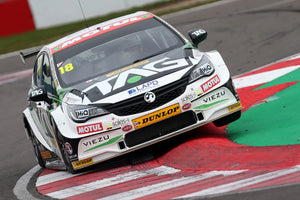 The Dunlop MSA British Touring Car Championship launch day is always a flurry of activity. With new cars, drivers old and new vying for attention, and everyone trying to outdo each other with the most striking livery, it becomes something of a scrum for the media's attention.
The biggest surprise of the day had to be the reveal of the Power Maxed TAG Racing Vauxhall Astras. Everybody involved has worked incredibly hard to keep the joint-title partnership under wraps, so the applause the cars and drivers received once the covers came off made the late nights and Secret Squirrel-esque meetings worthwhile.
2015 Jack Sears Champion Josh Cook re-joins the team for 2018, alongside 2017 Sears winner Senna Proctor, both of whom cut their teeth in PMR cars.
The team have been working incredibly hard over winter, developing the cars after their maiden season. With new Technical Partners joining the squad since last season, the changes made to both the Warwickshire-built Vauxhall Astras are more than just skin deep.
Team Manager Martin Broadhurst is feeling positive for the year ahead, stating
"The whole team have worked incredibly hard over the winter to make sure the cars are at the pointy end of the grid from the get-go and the results from today are very encouraging as we look to the start of the season. With another test day still to run before the first race weekend, we are confident of a good result at Brands Hatch."
Overall, Josh Cook posted the 6
th
fastest time of the day, which was the fastest on "scrubbed" tyres, and Senna earned himself a great 12
th
position by the close of play.
Adam Weaver, Power Maxed TAG Racing Team Principal said
"I'm incredibly proud of the team for all the hard work they've done in securing TAG Industries as Joint-Title Partner. The development of our Commercial Programme has long been something of a focus of mine, proving that the BTCC works as an income generating platform, allowing us to focus on recruiting talented drivers rather than those with the most money, and with names now on board like TAG, Motul, Euro Repar, sales-i and Viezu amongst our many new Partners for the year ahead, I couldn't be happier with the progress made. Josh and Senna are not only personal friends now, but are incredibly talented drivers, and fit perfectly within the PMR family. I can't remember ever being as excited as this about BTCC and I know we'll see both drivers on the podium across the season; there's a lot more to come from us again this year."
Power Maxed TAG Racing will compete in the Dunlop MSA British Touring Car Championship, which opens at Kent's Brands Hatch on the Sunday, 8
th
April.