Reflections: Brands Hatch Indy - 8th April, 2018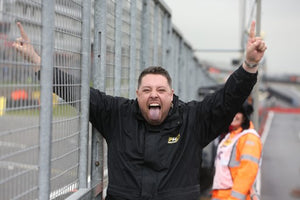 As we come into our fourth season of Touring Car racing, it's been a weekend of firsts for the whole Power Maxed Racing crew.
Most visibly, it was our first public outing as not only Power Maxed TAG Racing, but with the addition of a whole brace of new Technical and Support Partners. This is the very first year of our expanded Commercial Programme, and we were understandably proud once the deal was struck with TAG Industries to form joint Title Partnership. The technical support brought to the table by Motul, a name synonymous with elite-level motorsport across the globe, is something that can only take PMR to the top. Similarly, the support of world-renowned Viezu Performance Tuning is something that will play a massive part in our campaign, through 2018 and beyond.
It was also, most poignantly, the team's first BTCC race win. With 2017 Jack Sears Trophy winner, Senna Proctor, starting 27
th
on the grid for Race 2 of the day, the decision was made to stick with the Option tyre on the drying track. What has been described as "one of the greatest drives in BTCC history" was to unfold over the next 27 laps, with the 19-year-old making his way quickly past BTCC veterans to take the outright win.
It was, not to undersell the moment, an emotional moment for every single one of us. We'd done it; we were BTCC race winners. For Team Principal Adam Weaver, it was, quite literally, a dream come true:
"As with pretty much everyone in the paddock, I'm a life-long BTCC fan. I remember watching the likes of Steve Soper and Andy Rouse as a kid, determined that at some point I'd be there, doing that. To win the second race of the season in the championship's 60th Anniversary year is an indescribable feeling, and to do it from almost the back of the grid is something that none of the thousands of spectators watching will forget. Seeing Josh fight his way up from 28th to 5th within just a few laps had my heart racing, but it was just unfortunate for him that the track dried out as it did. I can't overstate how proud I am of Senna, Josh, of Martin Broadhurst, and of the team he's pulled together over the past 4 years. Bring on Donington!"
PMR Team Manager and Technical Director, Martin Broadhurst, waxed equally as lyrical about the weekend:
"The drive Senna put in was absolutely spectacular. That race will, quite rightly, go down in history as one of the greatest drives of the NGTC era, and the decision by Senna and Race Engineers Rob Peacey to stick with the Option tyre was a risk that I backed 100%. Yesterday was the culmination of 4 years of hard work, and both Adam and I made sure to personally thank every single person that played a part in the cars. I take pride in the team we've put together over the last 4 years, and I know I speak for us all when I say that each and every one of them puts literally everything into making those cars the best they can possibly be, and this weekend it paid off - our first race win, Fastest Laps by both Josh and Senna, and both drivers in the points is a good feeling."
Former Jack Sears Champion Josh Cook had a weekend of mixed emotions:
"Disappointed about the incident with Matt Neal in Race 1, as the car was feeling fantastic and I genuinely think we would've been on for a really strong result, but that's racing! If the track had stayed damp in Race 2, I would've been well up at the pointy end. We were the fastest car on wets, and I'd battled my way up to 5th before the tyres unfortunately started to go off. But had that happened, Senna wouldn't have had his first win, and I can't even begin to describe how happy I am for him. As a team I think we've shown that the cars are competitive and that we're a force to be reckoned with this year. I spent the majority of Race 3 defending, whilst battling with power steering issues for most of the race, which didn't allow me to push on quite as much as I would've liked, but scored a solid 10th, which puts us well in the points and sets us up well for Donington in a few weeks' time. I'm so glad I made the decision to come back to PMR this year - it's good to be home!"
Final words fall to Man-of-The-Moment, Senna Proctor:
"I don't think it's quite sunk in yet. I didn't even know that I'd won until I pulled into parc ferme and realised that no one was in front of me - it was a very surreal moment. I can't thank Martin and the team enough for putting together an incredible package, and the decision to bring Rob Peacey in is definitely going to stand us in good stead for the season. Starting at the back of the grid, being the furthest back of 9 cars that made the decision to run on slicks, we didn't expect to take the win, but it's proved that we're here to win. Looking forward to this season even more now, and I know that between Josh and I we'll be seeing a lot more podiums. Thanks again to all my sponsors - we literally wouldn't be here without you."