Reflections: Donington Park - 29th April,2018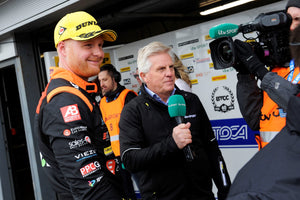 Another weekend of firsts for Power Maxed TAG Racing sees the team heading up both the Manufacturers and Teams standings.
We were still on something of a high from Senna Proctor's historic race win at Brands Hatch, just two weeks before. This meant that approaching Donington the mood was positive, with the win having bolstered the fact that our hard work throughout the winter had paid off, but it also meant we were feeling the pressure a little bit. But pressure is good; it drives you forward.
Saturday saw us open the shutters to an exceedingly damp track, which made Josh Cook very happy indeed. Notoriously fast in the wet, he was feeling confident in both the car and his ability from the get-go. A pair of strong Free Practice (FP) sessions saw the Bath based driving wizard post a P2 (less than 0.030 off former Carrera Cup Champion Dan Cammish) and a P1, round up the day's performance by taking pole-a first for both him and us.
A dry Sunday saw Cook take his first ever race win, followed by a closely fought P2 in Race 3, leaving him third in the championship. An unfortunate incident in Race 1 left Senna with something of a bitter taste in his mouth, resulting in him having to start Race 2 from the back of the grid, despite finishing P8. This lead to a massive shunt in Race 3, calling a premature end to the plucky Yorkshire teenager's day, through no fault of his own.
With the team now leading the Manufacturers' and Teams' standings, the mood within our Warwickshire facility is buoyant, and Team Principal Adam Weaver is understandably excited about the season ahead: "In just 2 events we've seen both Josh and Senna take their first win each, our first Pole in the hands of Josh, and witnessed Martin Broadhurst cry with happiness! We've spent the last 3 seasons working relentlessly, building the right team and doing things the right way, and it's really paying off. I'm immensely proud of Josh for what he achieved this weekend, and equally proud of Senna for keeping his head when the day went against him. I couldn't imagine two better drivers representing us."
Team Manager Martin Broadhurst was equally as positive: "I'm over the moon with Josh's performance this weekend. From the get-go he was posting consistently quick times, and his feedback on the car and what it was doing was, as always, top notch. What happened with Senna was unfortunate, but when racing at this level you have to take the rough with the smooth. Every single member of the team put their lives into making sure these cars are at the front, and we're proving that the hard work and dedication is completely worth it. To be at the front of both the Manufacturers and Team Standings is a huge boost for us, and is exactly where we want to be."
Josh Cook, now sitting 3rd in the Driver Standings, was understandably jubilant; "What can I say, other than it's been a long time coming? Once I saw the times in FP1 and 2 I knew we could be on for a pole, which gave me that little extra push right at the end. Other than a little challenge from Smiley, who drove really well, leading Race 1 from grid to flag was a dream come true. I was happy with P2 in Race 3 too-Adam Morgan made that Mercedes super wide, and I just couldn't quite get the opportunity to pass him to chalk up a second win. I can't thank my engineers and the whole of PMR enough for giving me what is a fantastically set up car, and I'm glad that I'm doing Euro Repar Car Service, Glide Parking and my other sponsors proud this early in the season."
Senna Proctor, who won his first race in triumphant style at Brands Hatch, wasn't quite as positive about the weekend; "The only word I can use to describe it is 'frustrating'. The car was absolutely on the pace, but we were just marred with bad luck from the outset. The racing incident with Turkington in Race 1 set us back massively, and I truly believe that if we hadn't had P8 taken away from us for the start of Race 2, I would've been up on that podium with Josh during Race 3. Unfortunately, that's motorsport, and with Thruxton less than 3 weeks away, I'm confident I'll be spraying that champagne by the end of the weekend! I'd just like to say thanks again to my sponsors-Bee Health, Matrix and LAPD for continuing to support me."
Sam Cowan, CEO of joint title partner TAG Autosport, said "Magnificent team performance from all concerned. A meticulous drive from Josh. Subsequently, Senna distinguished himself in accepting an arguably harsh penalty and getting on with the job at hand. The Boys & Girls did good. Well Done!"
For all media & enquires, please contact Si McNally at

This email address is being protected from spambots. You need JavaScript enabled to view it.

.