PMR Partner with UK's leading bespoke PC and Laptop Manufacturer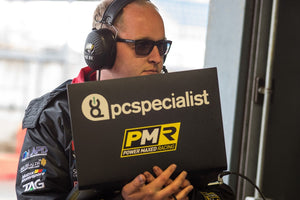 Warwickshire-based Power Maxed Racing (PMR) have today announced their partnership with PCSpecialist, the UK's largest manufacturer of bespoke PCs and laptops.
Racing under the Power Maxed TAG Racing (PMTR) banner, the team are currently heading up both the Teams' and Manufacturers' standings in the British Touring Car Championship (BTCC), the UK's most popular form of motorsport.
PMTR will continue using PCSpecialist equipment through their 2018 campaign, and have already seen the benefits of the multiple award-winning Wakefield-based company's products, taking home two wins, a second place and a pole position over the two race weekends so far this season.
The partnership will also enable both PMR and PCSpecialist to raise their presence within the steadily growing online racing market. Fans of the BTCC should keep their eyes out over the coming months for exciting announcements and opportunities, both online and trackside.
"Efficiency, reliability and consistency are paramount when working at this level," states PMR Manager and PMTR Technical Director Martin Broadhurst. "We were blown away by the performance of the PCSpecialist equipment out of the box, and the difference it's made to the team is considerable. Data is one of the most important tools in our arsenal, and the ability to download and assess data quicker than ever before from the cars during pitstops and post-race briefings makes a massive difference. The partnership has also given us the ability to run ever-more complex simulations at our office - what would have taken us a day before can now take just an hour, purely because the hardware PCSpecialist have supplied is so advanced and perfectly suited to our requirements."
PCSpecialist's PR Manager, Ben Wilson, is equally as excited about the opportunities the partnership presents; "We are really pleased to be entering into our first partnership within motorsport, and PMR are the perfect outfit for us to do so with. Whilst we have always been known for our gaming-focussed systems, we are also committed to building workstation-based systems. Working with PMR within the BTCC is a great outlet for us to show that our workstations work on a large scale and deliver the performance required in a high-pressure environment. All of us at PCSpecialist are excited to be technical partners of PMR, and we look forward to some great racing!"
Further information:
Warwickshire-based Power Maxed Racing (PMR) is a professional motor racing team currently competing in the British Touring Car Championship (BTCC) with the Vauxhall Astras designed and built by the 10-man team at PMR.
In the Astras' debut season, PMR achieved several podium finishes and secured the coveted Jack Sears Trophy with five races of the Championship still to run. The team have won two races in 2018, and currently lead both the Manufacturers' and Teams' Standings
PMR is headed up by Team Principal Adam Weaver, and highly respected BTCC engineer Martin Broadhurst. Weaver also owns sister company Automotive Brands, whose product portfolio includes well-respected aftermarket brands Power Maxed and Steel Seal.
2018 sees PMR continue its relationship with Vauxhall in the BTCC, with the two Power Maxed TAG Racing Astras competing in the Championship's 60th anniversary season, aiming to contend for the title.
PCSpecialist are the UK's leading bespoke desktop & laptop manufacturer. Established in 2003, PCSpecialist have evolved to become the 'go to' brand for bespoke systems.
Recognised by the globe's leading hardware vendors, PC Specialist are now official partners with the likes of Intel, NVIDIA, Microsoft, Corsair, & AMD. You can be assured that all components within their systems are of the highest quality, all resulting in a more powerful and reliable experience for you!
Over the years PCSpecialist have been decorated by a number of industry respected awards for both their systems and customer service.
Prospective partners can contact PMR Commercial Manager Si McNally at

This email address is being protected from spambots. You need JavaScript enabled to view it.

, or PCSpecialist PR Manager Ben Wilson at

This email address is being protected from spambots. You need JavaScript enabled to view it.