Team To Contend The 2015 Mini Challenge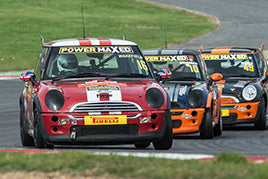 British Touring Car Championship squad Power Maxed Racing will run up to four of the new F56 Challenge cars in the 2015 MINI Challenge, and has signed former touring car racer Harry Vaulkhard to lead its attack on the series. The team currently runs an NGTC Chevrolet Cruze for Chris Stockton in the BTCC. Vaulkhard – this year's V.A.G. Trophy champion – brings recent touring car experience to the MINI Challenge, having raced within the BTCC in 2009 before contesting a season in the top-flight FIA World Touring Car Championship with his family-run Bamboo Engineering team.
Power Maxed head Adam Weaver, who may race a car sporadically himself next season, reckons that in Vaulkhard the team has a strong driving foundation. "I'm really excited about our plans to expand the team into the MINI Challenge," said Weaver.
"We're keen to push Power Maxed as a brand forward in British motorsport and the MINI Challenge was the most logical progression for us. We have great visibility in the BTCC, but running cars in the MINI Challenge – a proven BTCC feeder category – gives us that ladder of progression for us to potentially help guide drivers up the career path into touring cars."
"Harry is the perfect first signing for us. He's got great experience of tin-top racing and has an intricate knowledge of what is needed from both the car and the team to start winning races. We'd love to see him back in the BTCC one day."
Power Maxed Racing has forged a technical partnership with existing team ExcelR8 Motorsport in order to make the expansion. The team will have access to technical data of the new cars and engineers from the BTCC programme will step down to help with running the cars.
"The partnership with ExcelR8 will work well for us because it gives us a base to help acclimatise the guys to the new cars," added Weaver. "We initially hoped to field two or three F56s next season, but we've had so much interest we could probably fill four. It's exciting times and we're really looking forward to the start of the new campaign."