Power Maxed TAG Racing to take on Goodwood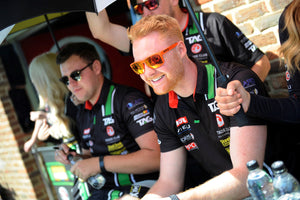 The Power Maxed TAG Racing Vauxhall Astra of multiple race-winner Josh Cook will appear at the Goodwood Festival of Speed next weekend. The Bath-based touring car ace will take to the world-famous hill climb on Friday, Saturday and Sunday, alongside historic and current motorsport stalwarts such as McLaren, Bentley and Ferrari.
The Warwickshire-based team have received a rare invitation from respected petrolhead and Peer of The Realm, The Duke of Richmond, the owner of Goodwood Estate and the man behind the legendary event. Celebrating its 25th anniversary in 2018, the Festival of Speed sees almost 500,000 motorsport fans descend on the idyllic country estate, located just a few miles from Chichester, and welcomes some of the biggest names in motorsport across the 4-day event.
Josh Cook is no stranger to the tricky 1.16-mile track, which, when not being used as an impromptu race track serves as the driveway to the backbone of the Goodwood Estate: Goodwood House. Both Cook and the Power Maxed TAG Racing team will be joined during the event by guests of sponsor Euro Repar Car Service, who'll have the opportunity to take an in-depth look at the Power Maxed Racing developed and built Vauxhall.
Adam Weaver, Power Maxed TAG Racing Team Principal:

"The Festival of Speed is the highlight of the year for thousands of motorsport fans. With people from across the globe coming together in a quintessentially British place like Goodwood, it really is a unique event. We're very proud to have the opportunity to take the Astra up the hill this year."
Martin Broadhurst, Power Maxed TAG Racing Technical Director: "2018 is a landmark year for both the BTCC and the Festival of Speed, with them celebrating their 60th and 25th anniversaries respectively. It's a real honour to be asked to demonstrate the car up the hill, and I'm really looking forward to seeing Josh put it through its paces in front of the hundreds of thousands of fans."
Josh Cook, Power Maxed TAG Racing Driver, Car #66:

"It won't be the first time I've taken to the hill in a BTCC car, but I'm feeling confident that we'll challenge for the win this year. We've had some great results in the Astra this season, and the response from the fans has been amazing, so I'm looking forward to meeting them and giving them the opportunity to see the car up close. It's a tricky course, but I relish a challenge, and I'm looking forward to representing Power Maxed TAG Racing and Euro Repar Car Service at the historic event."
The British Touring Car Championship celebrates its 60th Anniversary at Snetterton, on the 28th and 29th July, and is expected to attract a record number of visitors to the Norfolk track.
For media or driver access, all parties should contact

This email address is being protected from spambots. You need JavaScript enabled to view it.

for further info.