Power Maxed TAG Racing star confirmed as member of historic BRDC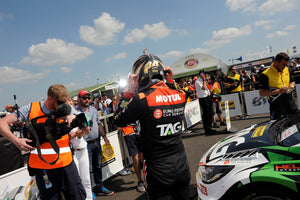 Josh Cook has today been confirmed as a member of the highly prestigious British Racing Drivers Club (BRDC). Cook, who has so far this season chalked up 2 fantastic wins in the Power Maxed TAG Racing Vauxhall Astra, joins some of the greatest names in British motorsport history as a member of the ultra-exclusive membership body.

Membership is strictly by invitation only, and any driver who hopes to join must be deemed to have achieved success at an international level across multiple seasons. Having achieved consistently high results in several championships, including the Production Touring Car Trophy, the Renault Clio Cup and, of course, the British Touring Car Championship (BTCC), his talents were recognised by the BRDC member community, and he was elected to join the exclusive private club.

Cook said: "I'm proud to be joining some of the greatest drivers in motorsport history as a BRDC member. It's something we all aspire to, and I'll be wearing the shields with pride over the historic weekend."

Cook will wear the BRDC member decals on his number 66 PMR prepared Astra this weekend during the BTCC's 60th Anniversary celebrations, culminating in the "Diamond Double" as the last race on Sunday. This special 20-lap race gives drivers the opportunity to bag double points, as well as running without any success ballast.