Plato takes to wheel of PMR Astra for first time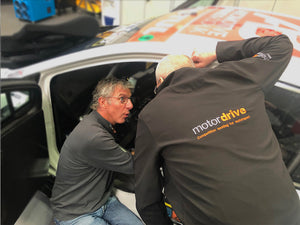 Yesterday saw Jason Plato take to the wheel of his Sterling Insurance with Power Maxed Racing Astra for the first time. The two-times BTCC champion won his first title in a factory-supported Astra back in 2001, and the test day was his first experience of front-wheel-drive machinery since he finished 2nd overall in 2015.

 
The day saw Plato complete 56 laps of a very greasy and windy Snetterton circuit. With a circuit length of just under 5km, the overall distance recorded was just 6km less than teammate Rob Collard's 133 laps of Brands Hatch's Indy circuit the previous week.
 
With so much seat time, the experienced driver was able to give the team a massive amount of feedback before the next session of their pre-season test programme, where he'll take to the track for the first time with former Independent's Champion Collard as teammate.
 
"It felt great to be back in a front wheel drive car again," said Plato. "It took a few laps to get back into it, but I quickly felt at home in the car. I've worked with Martin before at 888, and he's put together a really strong team in PMR, so it's given me even more confidence that we're going to take the Sterling Insurance with Power Maxed Racing Astra to the pointy end from the off. Bring on Brands!"
 
Team Manager Martin Broadhurst was positive about the day, stating "We were happy with the number of laps we got in, although the weather was less than ideal. Having worked alongside Jason before, I was confident we would receive detailed feedback straight away, which alongside the data recorded during the day means we can make the changes needed for our next test week."
 
Fans will get their first glimpse at the eagerly anticipated Sterling Insurance with Power Maxed Racing Vauxhall Astras at the series' Media Day, taking place at Kent's Brands Hatch on the 26th of March.