Sterling Insurance with Power Maxed Racing has a frustrating start to the 2019 season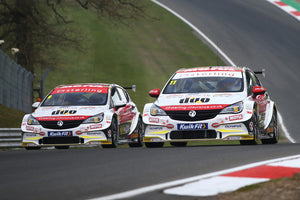 Rounds 1, 2 and 3 of the Dunlop MSA British Touring Car Championship took place at a foggy Brands Hatch circuit in Kent. Finishing 2nd overall in 2018 was the best year so far for the young team, but there is a determination that 2018 will not be the best year.
Sterling Insurance with Power Maxed Racing came to Brands Hatch after an intense pre-season, where the Warwickshire-based-team had sought to make further, detailed improvements to the race winning Vauxhall Astra.

The signing of two multiple race winners in Jason Plato and Rob Collard has also given an even stronger sense of purpose, and pre-season testing has allowed both drivers to get to know the Team and transition back to front-wheel-drive.

Free Practice sessions on Saturday morning were held in dry conditions, where Jason showed strong pace to be 4th quickest and the fastest front-wheel-drive car with Rob experimenting with set up to come in 17th. Qualifying was held in wet and increasingly cold conditions, punctuated with several red flags as the drivers sought to find the limit of the new and improved Dunlop wet tyre.  
   
Early exchanges saw both Sterling Insurance with Power Maxed Racing Astras lapping within 100ths of a second of each other before Jason started to find a bit of clear air and string some fast laps together to move up into P2. With Rob struggling to find his rythmn in traffic, Plato was on an even faster lap, only to be curtailed by the final red flag as debutant and ex F1 driver Mark Blundell slid straight on at Druids. By the restart, the track had started to lose its edge and with times not improving both drivers were consigned to their positions, finishing an excellent 2nd for car 11 and a frustrating P16 for car 9.

Race day dawned damp and foggy. With the fog reluctant to lift and the first support race postponed, the BTCC grid headed out 5 minutes late in damp conditions. In very similar conditions to PMR's dramatic win from the back last season, all drivers and engineers were looking to the skies and their crystal balls to determine tyre choice.

Being at the front brings its own pressure in this situation, and Jason, his engineer and the other cars around him all chose to run on wet tyres. The first slick shod car was back in 10th, and with rain starting to fall again, it seemed the logical choice, which was also followed further back by Rob.

As expected at the start, the #11 Astra was beaten off the line by the rear wheel drive cars around it, fighting for track position on the exit to resist the attentions of Oliphant's BMW on the run up to Druids to slot into 5th. Further back, Rob was fighting in P18 but struggling to make progress around the tight Indy circuit.

Almost immediately, after being notified by Race Control, the Team radioed Jason with a drive through penalty for placing his car just inches over the grid line at the start. The Astra, resplendent in a striking new livery for 2019, duly peeled into the pit lane, rejoining at the tail of the field.

The slick tyre choice was looking like the correct one as the race went on, so the Team brought Plato in again for a quick change of tyres. By lap 12, Jason was the fastest car on the track, albeit two laps down, showing signs of what might have been.

Meanwhile Rob decided to tough it out on wets, battling for P18 but not being able to move forward as he hoped, ultimately finishing in 21st place, with Jason cut adrift in 25th.
 
For Race 2 the track had dried, and all cars started on slick tyres. The two PMR Astras were on the new compound Soft tyre, hoping to exploit the chilly conditions to move forward. The reality was a little different, as the softer tyre didn't work so well in the conditions, and both cars struggled to make progress, joined by Turkington, Oliphant, Smiley, Cammish and Tordoff. Jason circulated in 20th, with Rob fighting back after being bundled down to 24th.

At the end of 24 hectic laps, Jason crossed the line 21st, and Rob had fought back up to 22nd.
 
Race 3 saw Jason starting on grid 19 and Rob on grid 22, again both on slicks and hoping to move forward to reflect the strong pace showed yesterday. For Rob the race was over too early, side swiped by an out of control Broadley mid-way through Paddock Hill bend. Damage to the right-rear necessitated a pit stop for repairs. Rob re-joined for a test session and showed good pace for a few laps before calling it a day on lap 19.

For Jason Plato it took a while for the car to feel balanced as he swapped places with Smiley on laps 5 and 6. By lap 18 he had started to move forward to P14, and showed good pace. The Astra joined the battle for 10th in the closing laps, diving inside Thompson with a great move at Paddock Hill bend, but was unable to make it into the top 10 before the finish, to end up in 13th.  

Coming away from a very promising but ultimately frustrating Brands Hatch Indy circuit, Sterling Insurance with Power Maxed Racing looks forward to Donington Park in three-weeks-time in a positive frame of mind.   

Quotes:

Rob Collard, Sterling Insurance with Power Maxed Racing Vauxhall Astra #9: "A really frustrating weekend on our debut. We were hoping for a lot more, but the cars have shown really good pace throughout the weekend, so we have to take the positives from that. Now we'll regroup before Donington Park, where we know we've had a very successful test, and put in some good laps!"

Jason Plato, Sterling Insurance with Power Maxed Racing Vauxhall Astra #11: "Race 3 was good, for me. We've made some strong progress with the last bits on the car, which will really help us for the rest of the year. I'm leaving here wondering what could've been, had we not had that very strange call in Race 1, but we've learnt something about the car and shown it's on the pace, so I'm heading home feeling positive."

Adam Weaver, Team Principal, Sterling Insurance with Power Maxed Racing: "What an anti-climax to qually! A very disappointing day. But, looking at the positives from the weekend, we definitely found pace in the car, our new drivers settled in perfectly, and, even after all the events of today, remained extremely positive. We are confident the setup changes we made will make us all the more competitive at Donington in 2-weeks-time."

Martin Broadhurst, Technical Director, Sterling Insurance with Power Maxed Racing: "It's been a frustrating weekend, but what we've learnt will definitely benefit us moving through the season. Both Jason and Rob have given us great feedback on the car, which they're both feeling confident in already, and we've got some valuable data to go through before the next round. It just wasn't our weekend."

Andy Morton, General Manager, Sterling Insurance: "Obviously we would've liked our first round as Sterling Insurance with Power Maxed Racing to bring some silverware, but seeing how hard the whole team work behind the scenes has reinforced that we definitely made the right choice in joining PMR. Everyone is confident about Donington, and the mood has been incredibly positive all weekend, even with the bad luck we've had. We're excited to see what the rest of the season will bring."
Rob Collard – Car #9
Race 1. Grid 16. Result P21.
Race 2. Grid 21. Result P22.
Race 3. Grid 22. Result Did not finish.
Championship position. P23.
 
Jason Plato – Car #11
Race 1. Grid 2.  Result P25 (after drive through).
Race 2. Grid 25. Result P21.
Race 3. Grid 21. Result P13.
Championship position. P20.
 
Teams Championship – P14.
 
Manufacturers Championship – P5.