Successful Volkswagen Racing Cup Weekend at Oulton Park sees Joyce in Top 5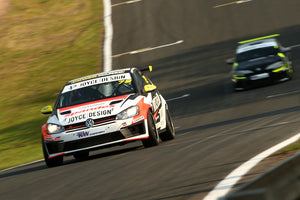 Bank Holiday Monday saw the inaugural round of the 2019 Volkswagen Racing Cup, held at the picturesque Oulton Park. Forming part of the British GT calendar, fans were set to enjoy a teaser of British summertime at the Cheshire circuit, with various forms of motorsport taking place across the day.


This round, PMR were to field just one driver; Russell Joyce. No stranger to the team, Russell has run with the Warwickshire-based team since 2016, along with his company Joyce Design being responsible for the livery of every PMR BTCC car since the inception of the team in 2015.

After an extensive rebuild through the winter, Joyce's Mk7 Golf was expected to perform well across the weekend, and neither Russell nor the team were disappointed.

Russell Joyce: "After completing pre-season testing, we knew that the team at PMR had delivered a competitive car. A lot focus had been directed at me this year, and the coaching from the team and the use of data has allowed me to explore the limits of the car fully. There is still plenty of work to do, however we are confident that we are moving in the right direction.

The Oulton Park track is very complex and considerable time can be lost just by missing an apex or missing a braking point. Qualifying in the heat was challenging, and it was about managing the tyres and finding space to set a time. We made three consecutive laps, each slightly faster than the last to set a P6 (1.52.1).

Race 1 was very exciting! After a bad start from spinning the wheels up, we managed to make back the places, with challenging overtakes through both Lodge and Old Hall. The car felt incredibly balanced, and the rotation was progressive, which gave me the confidence to push harder. Unfortunately, after clipping my rear wheel on the high kerb at Knickerbrook, the car was sent into a spin undoing all of our good work! Fortunately, we manage to make it back to P8 from P14 by the time the chequered flag was waved.

Race 2 was full of drama. 2 safety cars and a red flag saw only 2 laps of full racing, which was incredibly frustrating. After being muscled out on Turn 1, and enjoying some of the Oulton Park greenery, we managed to re-join the track and make it up to P6.

We have welcomed the introduction of controlled fuels and AIM dashboards, which have given the championship even more transparency and integrity. Many thanks to the Maximum Networks Volkswagen Racing Championship for delivering what promises to be a competitive grid full of action."

The weekends sees Russell lying 5th in the highly competitive championship heading into the next rounds, taking place at Snetterton on the 18th & 19th of May.
Russell Joyce – Car #72
Race 1. Grid 6. Result P8.
Race 2. Grid 8. Result P6.

Championship position - P5