PMR announce extended technical partnership with Milltek Sport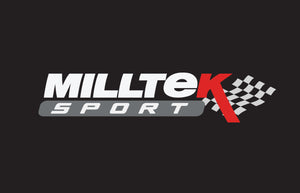 Power Maxed Racing have today announced their continued partnership with stainless wizards, Milltek Sport. The Derby-based exhaust manufacturer, renowned across the globe for producing some of the best systems for both road and race applications, have been a Technical Partner since the start of the 2018 season, providing bespoke exhaust systems for the race-winning Vauxhall Astras through their Special Operations department.
The relationship and optimum knowledge provided by Milltek has ensured that the PMR-built Vauxhall Astras are consistently at the front of the grid.
Part of the partnership during the previous season was the inclusion of the Race Simulator on Power Maxed's Retail Truck, "Optimus", built in conjunction with Technical Partner PCSpecialist, which was used by thousands of fans across the season at various venues. The first product launched by sub-brand Milltek Innovation, the simulator frames have proved a hit amongst motorsport gaming enthusiasts and racing drivers alike, providing the perfect tool for professional and amateur drivers to master tricky circuits in all conditions.
As part of the ongoing development programme, Milltek and PMR have been collaborating on a range of trackside garage equipment, the first of which is now available direct from Milltek.
The single bottle trolley (pictured below) has been developed and fettled between the two entities, and is now available to purchase from Milltek (01332 227280) at just £295 (plus VAT). A larger range of products, including wheel trolleys in both horizontal and vertical configurations, are currently in development and will be available imminently.
Sterling Insurance with Power Maxed Racing Team Manager, Martin Broadhurst: "Working with Milltek last year undoubtedly helped us in the chase for championship points. The development programme we have put together, on both the exhaust and Innovation side, has been incredibly useful for both sides, and the pit-lane equipment is really well thought out and of fantastic quality."
Milltek Sport Managing Director Steve Pound: "We are passionate about the Motorsport industry and working with teams like Power Maxed Racing, who are hungry for success, challenges us to develop products to give them the best opportunity we can provide to be at the top of their game.  We are looking forward to working closely throughout our partnership and seeing what the team can achieve this year. Following a fantastic season is 2018, and with two former champions in proven cars, it's going to be a very exciting year for all of us."