Olympus Sponsorship Deal with Power Maxed Racing gives Photographers opportunity to go behind the scenes at BTCC Rounds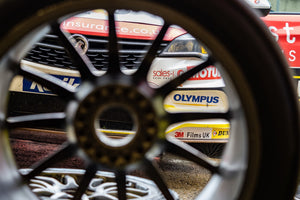 Olympus has announced their sponsorship agreement with Power Maxed Racing team in this years British Touring Car Championship, offering a unique opportunity to capture the action and experience working as a pro sport photographer.
Known for their educational and inspiring events and workshops – often with a creative twist to provide attendees with a unique experience – Olympus have gone a step further by announcing a series of events at all 10 British Touring Car Championship races throughout the UK in 2019.  
Celebrating their centenary, the company kicked the year off with the launch of their latest camera, the OM-D E-M1X, to offer professional photographers enhanced reliability and performance. The sponsorship announcement perfectly compliments the new camera as the 'X' packs an array of new features ideal for shooting fast movement.  
Olympus are inviting professionals along to the events for an opportunity to test the latest features of the E-M1X including a new intelligent subject detection feature which allows the AF system to automatically detect specific subjects (motorsports, airplanes, trains), focusing and tracking the optimal area, so that users can fully concentrate on the composition.  
To find out more and apply to attend one of the races, or to enter our photographic competition click here, or go to www.enjoy.photo
Terms & conditions apply    
PMR Team Principal, Adam Weaver
commented.
"We are delighted to welcome Olympus to join us in our quest for BTCC honours. At PMR we use engineering and technology to achieve our on track success and in Olympus we have a partner that is at the very forefront of technology and performance across its range of cameras. The BTCC offers a visual  spectacle that is unrivalled within UK sport and we have no doubt that the Olympus brand on the Power Maxed Racing Astras will be captured in sharp focus through the nationwide Be an Olympus Pro for the Day photographic competition." 
Georgina Pavelin, Olympus Marketing Manager
said, "
We are keen to support photographers in their journey and the races provide an ideal opportunity to try new kit, learn from the experts, develop your portfolio and talk to our team. Whether learning more from your Olympus kit or trying the OM-D products for the first time, our sponsorship opens up new opportunities to capture some unique content and test the product features. PMR provide the perfect opportunity to support events across the UK and a high profile platform to celebtrate our 100th birthday. We are very proud to see our branding flying round with such a great team."
Power Maxed Racing
Power Maxed Racing (PMR) competes in the Kwik Fit British Touring Car Championship with the Vauxhall Astra.  
After finishing equal second overall in the 2018 BTCC, PMR has signed two of the sport's leading drivers, double Champion, Jason Plato and fellow multiple race winner, Rob Collard racing for Sterling Insurance with Power Maxed Racing in the 2019 season which kicked off at Brands Hatch on 7th April.    
OM-D E-M1X
The E-M1X remains true to Olympus' promise to design the most compact and lightweight camera system in its class whilst packed with the latest imaging technologies in a robust casing with integrated vertical grip.  
Featuring the world's best image stabilization (IS) performance1, a re-developed and fast autofocus (AF) system, as well as two TruePic VIII image processors allowing for high-speed responsiveness and handheld High Res Shots; this powerhouse camera offers a compelling mix of impressive features and portability.  
Combined with Olympus' high-resolution M.Zuiko lens line-up; fields where portability, speed and reliability are absolutely essential – such as wildlife, documentary and sports photography high-end image quality and effective shooting results are possible.