Power Maxed Racing announce increased support from long-term team partner, sales-i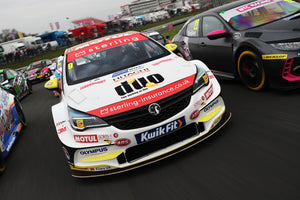 Power Maxed Racing have today announced their not just continued, but increased, partnership with sales and customer analysis software provider, sales-i. The UK based company, headed up by successful entrepreneur and life-long BTCC fan Paul Black, have increased their presence on both the Warwickshire based team's Vauxhall Astras, and are now a prominent team sponsor.
sales-i, formed in 2008, is one of the world's best-known cloud-based sales analytics software solutions, and over recent years has played a key role within some of the biggest companies worldwide. The first UK based company to pass Microsoft's now industry standard SaaS Incubation Centre Programme, sales-i quickly earned itself a reputation as a simple and versatile sales support programme within countless industries.
With sales-i Having played a significant role in the expansion of parent company Automotive Brands, manufacturers of Steel Seal head gasket fix and the Power Maxed range of automotive care & maintenance products, PMR's Team Principal Adam Weaver is quick to point out the benefits he's experienced first-hand in utilising sales-i to its full potential:
"sales-i has definitely been one of the major forces behind our exponential expansion of Automotive Brands, and has been instrumental in the implementation of several highly successful sales campaigns. It allows us to make sure all our staff are delivering the same message to all customers, and quickly identifies how we can improve areas of the business, all at our fingertips. We now couldn't be without it. I would recommend it to anyone – apart from our competitors!"
CEO of sales-i, Paul Black, is excited for his second year with the Vauxhall supported team- "Our first year with PMR was fantastic, and the awareness we were able to gain from our branding on the car meant increasing our support this year was a no brainer. We're looking forward to a hugely exciting season, and with the changes Martin Broadhurst and the team have made to the already successful cars over winter, we're confident of seeing the sales-i logo right at the front of the grid."