Jason Plato to wow fans at Power Maxed Coventry Motofest this weekend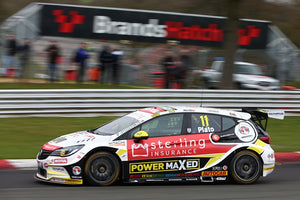 The most successful driver in British Touring Car Racing history, Jason Plato, will take to the streets of Coventry this Saturday at the famous Power Maxed Coventry Motofest.
The 51-year-old legend will pilot his Sterling Insurance with Power Maxed Racing Vauxhall Astra, built locally by Warwickshire-based PMR, around the closed street course during two sessions on Saturday.
The unique event sees a large section of Coventry's Ring Road closed off, to make way for hundreds of race cars, bikes and trucks from every era, and provides a one-off opportunity for fans to hear the race-winning car take to the street.
Jason will also be making a public appearance on the Power Maxed stand, "Optimus", centrally located above the Sprint Stage, at 11:30 and 3:00pm.
Fans can watch the BTCC Astra in action on the Sprint Stage at 1:05pm and 4:35pm, and should keep an eye on the Power Maxed Facebook and Instagram pages throughout the day for live feeds and updates.