Worx Hydroshot and Power Maxed Racing Partner to Form Unbeatable Cleaning Solution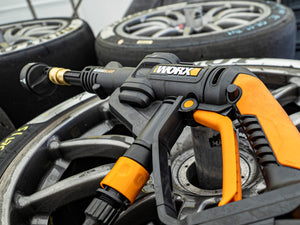 Power Maxed Racing have today announced their partnership with Worx, one of the World's foremost power tool manufacturers. Manufacturers of the world-famous Landroid, a fool proof yet effective robotic lawnmower, Worx are one of the biggest names in the power tool game, and are renowned for their constant product development. With PMR's parent company, Power Maxed, manufacturing some of the most effective automotive cleaning products on the market, it was a match made in heaven when Worx announced their newest product, the HydroShot.
A completely innovative pressure-cleaner solution, HydroShot needs no hose or electrical connection, so can be used almost anywhere. Powered by a rechargeable 20v lithium-ion battery, the lightweight lance can draw water from almost any source, and is ideal for cleaning cars, bikes, in fact almost anything you'd use a normal pressure washer for.
HydroShot has been rigorously tested by PMR, both in the workshop and trackside, and can be seen in action by visitors to every BTCC round for the rest of the 2019 season by visiting the Power Maxed Trade Stand, 'Optimus'.
"HydroShot has surpassed all our expectations, and shrugged off every test we've thrown at it. Washing facilities for the cars are almost impossible to utilise properly during race weekends, but with the portability of HydroShot, we can clean the car almost anywhere. It even means we can ensure the cars are clean after our pre-weekend shakedown sessions, in the middle of an airfield, ready for a weekend of racing." Martin Broadhurst, Technical Director for PMR
"We work hard to make sure all Power Maxed products are constantly at the top of their game, and with a product as innovative and effective as Hydroshot to go alongside them, we've created an unbeatable combination. This gives the opportunity for people who have no access to water supplies the option of cleaning their car properly, using Power Maxed products. It's the perfect pairing." Adam Weaver, Managing Director of Power Maxed