Another podium for Sterling Insurance with Power Maxed Racing, although it could have been more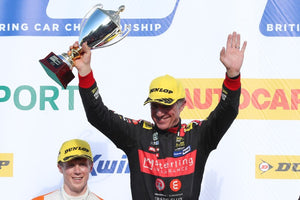 With the new surface offering up lap times nearly 3 seconds quicker than the old asphalt, the BTCC teams were heading into unknown territory this weekend. With the theoretical lower levels of tyre wear also offered up by the new surface, Jason Plato and Rob Collard were hoping that the significant advantage rear wheel drive cars have typically enjoyed around the twisty, high speed and narrow Croft circuit were going to be negated. 
After a week of intense rain, and with track time at a premium, conditions were thankfully dry for both Free Practice sessions, where both drivers looked to be very competitive. Jason ended FP2 in 5th and Rob in 13th, both with expectations of putting the Sterling Insurance with Power Maxed Racing Vauxhall Astras at the sharp end of the grid for Sunday.
Sadly, qualifying brought nothing but frustration for both drivers, as every attempt at setting a time were thwarted by red flag after red flag. After constant corner cutting in practice, the stewards had decided to locate Recticel barriers at key points which, when hit, were then dislodged into the track with obvious consequences. 
With a couple of major offs to add to the problems, a total of five rad flags created a topsy-turvy grid. Jason managed to secure a massively compromised P10 start, albeit less than 0.5 seconds off pole, whilst Rob was even more frustrated down in P16.
Race day morning was cool and sunny. With rain forecast later, PMR had elected to take the harder option tyre for Race 3. Of course, it then rained just before the start of Race 1… Only for the track to dry as the colourful BTCC train completed its green flag lap. Ultimately, this would make Rob's life all the more difficult in Race 3.
As the cars made their way down into the tricky turn 1 complex, Plato managed to get past the hard tyre shod Audi of Hill into P9, only to be demoted back to P10 by Cook on the next lap. Hanging on to the lead train around his "home" circuit (yes, JP heralds originally from Newcastle), the #11 Sterling Insurance with Power Maxed Racing Astra managed to re-take a sliding Cook on lap 6 and close up on Jackson ahead in P8.
Further back, Collard was in the middle of a pack of cars jostling for position and dragging mud out onto the racing line. Unsighted, Rob had a few moments before hitting wet mud on the exit of Sunny corner, instantly losing the rear of the #9 Sterling Insurance with Power Maxed Racing Astra and hitting the bank hard. The badly damaged car could not be moved, necessitating a Safety Car on lap 7.
During the subsequent 5 laps, Jackson's front left tyre punctured, moving Jason up to P8 before the restart, after which Jason immediately pressured Sutton for P7 before falling into the clutches of Cook, only to pull away to a secure and hard earned P8 come the chequered flag.
An amazing effort saw the hard working PMR crew repair extensive damage to the front, left side and rear of Rob's Astra ahead of Race 2. Fortunately, the weather had remained dry since Race 1, and although Rob was starting stone last in 30th place, there was less mud and debris for the Hampshire driver to avoid.
At the start Jason got away smartly, although he got side-swiped a couple of times as the #11 Astra held the inside line on the run into the turn 1 complex. A hectic first lap saw Plato consolidate 7th place and run in the tight 2nd to 8th train for the opening laps as this lead group broke away. Despite getting excellent exits from the tight last corner hairpin and chicane, Jason was frustratingly unable to create subsequent overtaking opportunities, although was a constant threat. In fact, the former double Champion pulled off a great move by following Sutton through inside Chilton to set up an entertaining four way battle all the way to the finish with Sutton, Cook and Ingram.
From the back, Rob had a superb opening lap in the rebuilt Sterling Insurance with Power Maxed Racing Vauxhall Astra, going from P30 to P22 in just over 2 miles before consolidating his position whilst monitoring high engine temperatures for a few laps. By lap 10 the multiple BTCC race winner was among the fastest cars on the track and having got past both Rowbottom and Jackson to move into P19, the PMR Astra was closing on the group of Oliphant, Goff, Simpson and Tordoff ahead, only to run out laps and finish 19th.
Heavy rain prior to Race 3 was the cause of much debate between drivers and engineers on whether to go out on wets or slicks. In the end, only a handful of drivers were optimistic that the new grippy surface would be a gamble worth taking. One of whom, with little to lose, was one of BTCC's great street fighters, Rob Collard.
At the lights, Plato made a great start, vitally out-dragging the slick shod Ingram, fighting off the fast-starting BMW of Jordan and challenging for P2 as they headed into the unknown of a first flying lap in the wet.
With the slick shod cars sinking like a stone, Rob battled to stay on the track, falling to P28. It was to be a long race of survival laced with more frustration.
On wets up at the front, after 3 laps and having broken away a little, Jason was still all over the two leaders only for a Safety Car to be called for Goff's stricken car, having been turned around by Smiley. Not only did this allow those from 4th down to close back up on Plato's tail, but it also made one think that perhaps there was hope for the slick runners after all. Although now up to P27, Rob's hard slick tyres were never going to light up before the chequered flag. By lap 15, Rob was a lap down and resigned to a P26 finish.
On his wets, Jason was getting even faster, setting the fastest overall lap on lap 7, which remained until the very last tour, when the soft slicks of Ingram finally snatched it away. Not content with being consistently the fastest car on wets, Jason was looking for the win, constantly nibbling inside the Honda of Cook with increasing urgency as he could see Chilton edging away. Around the twists of Croft, with a dry line now appearing, final efforts were fruitless, as a frustrated Plato bemoaned his fate over the radio, albeit delighting the hard working PMR crew with a well-earned podium.
Quotes:
Rob Collard, Sterling Insurance with Power Maxed Racing Vauxhall Astra #9 said: "We started yesterday morning hopeful, but it's just gone downhill from there really. We were going well in Race 1, but hitting that mud just turned the day into a bit of a disaster. The spirit of the team to repair what was actually some pretty heavy damage has been incredible, and they did a sterling job! The gamble to run on slicks in Race 3 could've gone either way, but unfortunately didn't pay off. Fingers crossed our luck changes at Oulton!"
Jason Plato, Sterling Insurance with Power Maxed Racing Vauxhall Astra #11 said: "I've always felt really connected with this car in the wet, as we showed at Brands during Qualifying and this afternoon. I had the fastest wet lap, which was only pipped one the last lap as the track really started to dry up. The weekend over all was good; we've just quietly gone about our business and just chipped away at it. I'm going home happy."
Adam Weaver, Team Principal, Sterling Insurance with Power Maxed Racing "It's great to see JP back on the podium, where he should be. He just needs to make the jump to the top step now! On the other side of the garage it's been incredibly frustrating, but that's racing; you have to take the rough with the smooth sometimes!"
Martin Broadhurst, Technical Director, Sterling Insurance with Power Maxed Racing "From a team perspective, I couldn't be prouder of the guys getting what was a pretty heavily damaged car turned around between Races 1 & 2. Unfortunately, it didn't change Rob's luck through the day, but you've got to look at the positives: Jason was consistently in the Top 10, we're taking home a decent points haul, and we've dialled in the car's wet setup."
Rob Collard – Car #9
Race 1. Grid 16. Result DNF.
Race 2. Grid 30. Result P19.
Race 3. Grid 19. Result P26.
Championship position. P14.
Jason Plato – Car #11
Race 1. Grid 10.  Result P8.
Race 2. Grid 8. Result P6.
Race 3. Grid 4. Result P3.
Championship position. P10.
Teams Championship – P6.
Manufacturers Championship – P4.