Once again the Sterling Insurance with Power Maxed Racing Vauxhall Astras feature in thrilling entertainment for a packed BTCC crowd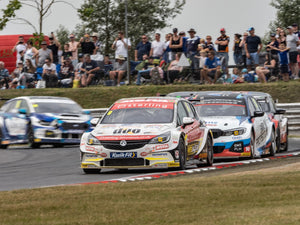 Sterling Insurance with Power Maxed Racing headed back to Snetterton in Norfolk for rounds 16, 17 and 18 of the Kwik Fit MSA British Touring Car Championship. With Snetterton being the venue for many test miles including the recent official mid-season test, marginal gains were expected to be the order of the day. However, the decision to introduce a choice of three Dunlop compounds made race day spicy, to say the least.
Saturday's free practice sessions say both drivers show good pace, with Rob in P5 just 6/1000 ahead of Jason with positions reversed in FP2 as Jason went P2 and Rob in P11 after a truncated session.
With hopes high for qualifying, opening skirmishes saw Jason sit in P4 although Astras suffered a little too much oversteer, Rob more so languishing in P17 as a brief red flag offered the PMR squad the opportunity to affect a few set up changes.
Plato improved slightly having missed the chance to get on the front row with a slight error at the final corner to qualify in P6. Rob also improved but was hampered on his fast lap to finish 3/10's further back in P10.
Both Sterling Insurance with Power Maxed Racing Vauxhall Astras elected to run the medium tyre in race 1. Against a top four of soft tyre shod front wheel drive cars, both drivers made solid starts to hold positions through the first corner with Rob slipping through into P8 as the field headed around lap 1, all determined to hold position.
The following laps saw a BMW, Vauxhall, BMW, Vauxhall train with Jason in car 11 struggling to take advantage of little errors ahead as Rob pushed Jordan behind. This stalemate allowed Morgan to close up forcing car 9 to defend as Rob dropped off a little. Post-race inspection had shown that Plato's engine was suffering an increasing loss of power from lap 4 onwards as he dropped back into the clutches of Jordan, who forced his way around the outside into Brundle, leaving a BMW size dent in the Astra at the tight Nelson right hander.
Jason and Rob then found themselves in line astern, Rob eager to get past, Jason eager to retain P6 as the Astras crossed the line.
The short break between races 1 and 2 saw intense activity in the garage as the PMR crew rectified the engine issue on car 11.
Plato started from P6 on the soft Dunlop, with Rob hoping to minimise his losses from P7 on the harder tyre.
Again both Astras made good getaways, running side by side into turns 1 and 2 making it a challenging 4 abreast. Contact between the teammates caused both to drop back, Jason in P8, Rob in P12. The next laps saw a frustrated Jason lose time behind Simpson, before making a great 3 corner move before an opportunistic lunge inside Ingram moved the Sterling Insurance with Power Maxed Racing Astra back into P6 and closing into Turkington before running out of laps.
Further back Rob was recovering after being shuffled wide at the last corner and managed to expertly haul his hard tyre shod Astra back into the points with a P14 finish.
A favourable reverse grid draw saw Jason start P3 for race 3, albeit on the hard tyre. Back in P14 Rob was on the soft Dunlop, looking to exploit the handling of his Vauxhall Astra.
At the front, Jason made a great move inside Smiley into the hairpin for the lead. As ITV expert Tim Harvey observed, a great move up the inside and no different to identical overtakes made today.
With rain threatening to fall, Jason tried to make his escape, only for the soft tyred Sutton to eagerly search for a way past. In a thrilling game of cat and mouse the Subaru pushed, shoved, sideswiped, undercut, overcut the Astra ahead as Jason expertly answered every question asked. Momentarily losing the lead, Plato immediately fought back, fighting fire with fire in a non holds barred contest – as the crowd were thrilled by the entertainment on offer.
Meanwhile, Rob's attempts to take advantage of the soft tyre were hampered in the early stages as Butcher harpooned the #9 Astra at the last corner, dropping the Hampshire driver down to P14 with a lot of work to do.
As the race of the season so far entered its final stages, Butcher used his straight-line speed advantage to draft passed both Sutton and Plato on the back straight. With cars three abreast, Jason was stuck in the middle as the Subaru ran out of road on the outside, spinning across the bows of the Astra, losing Jason the lead and dropping him back to an angry P4, with Rob incredibly now part of the fight for the final podium place in P7.
Now sitting behind Smiley, Jason then had the peace of mind to radio a quicker Rob through in order to attack the final podium place on his softer tyre. Looking threatening to get past, a big slide in avoiding an early breaking Honda undid the hard work. Although Collard closed up again, he ran out of laps to finish an excellent P4 with Plato rolling through in an eventual P5. 
Subsequent Stewards enquiries adjudged Jason to have been culpable for both the lap 1 and lap 7 moves on Smiley and Sutton respectfully. Although in total disagreement, Jason and PMR elected not to appeal.  
Quotes:
Rob Collard, Sterling Insurance with Power Maxed Racing Vauxhall Astra #9 said: "Overall it's been a good weekend. Being in the Top 10 Saturday proved that I'm still on the pace and that the car is there. That last race is a lot more like the racing that I like! Starting on the Soft Tyre, after 5 laps or so I was thinking that I was never going to catch the front runners, but a few spots of rain gave us the chance to catch those on Hard Tyres, so we just had a that edge. I'm looking forward to Thruxton."
Jason Plato, Sterling Insurance with Power Maxed Racing Vauxhall Astra #11 said: "That was good fun, I was enjoying myself. I was on the wrong tyre, obviously, compared to Ash, but the car went well and we held our own. Unfortunately, 3 into 1 doesn't go, so I had to give Rory a bit of space on my left, understeered a bit, and the rest is history."
Adam Weaver, Team Principal, Sterling Insurance with Power Maxed Racing "JP drove with pure class; it was great to see a proper driver use his talent and experience to full effect. This is exactly what the fans pay to see; close racing between proper drivers. The outcome wasn't what we wanted or I think deserved, but we'll be back in just a couple of weeks to bag some more points. Rob also had a strong meeting and its great to see him getting stronger as the season goes on."
Martin Broadhurst, Technical Director, Sterling Insurance with Power Maxed Racing "It's been a pretty positive weekend for us as a team. Rob and Jason held their own through FP1 & 2 yesterday, and both have proved the naysayers wrong with their performance today. We pulled in a decent points haul and have moved up in the Team Standings."
Results:
Rob Collard – Car #9
Race 1. Grid 10. Result P7.
Race 2. Grid 7. Result P14.
Race 3. Grid 14. Result P4.
Championship position. P16.
Jason Plato – Car #11
Race 1. Grid 6.  Result P6.
Race 2. Grid 6. Result P6.
Race 3. Grid 3. Result P17* (including 15 seconds of time penalties).
Championship position. P9.
Teams Championship – P5.
Manufacturers Championship – P4.