Teng Tools and PMR launch "PMR Edition" Toolbox range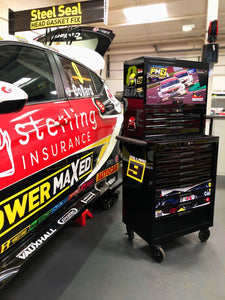 Power Maxed Racing have today announced a range of toolboxes and storage solutions, produced in conjunction with long-term Technical Partner and Official Tool Supplier, Teng Tools.
Teng have earned a reputation within elite level motorsport across the globe for premium quality and reliability, whilst keeping prices reasonable and customer service at the forefront.
PMR have worked closely with the worldwide brand since the team's technical inception in 2015, strengthening the relationship year on year, culminating in the creation of the PMR Edition range of toolboxes.
Limited to just 50 units in total, some of which have already been sold, the range is set to be as popular as the drivers and brand it represents, and comes as a variety of options:
A 6-drawer top-box, featuring the BTCC Vauxhall Astras of Rob Collard and Jason Plato in formation earlier this year, with the PMR logo to the front, and the drivers' race numbers and PMR logo to the sides. This is available as a standalone box for £299, or with a 140-piece tool kit for £599. Both prices include VAT
A 10-drawer roller cabinet, featuring an image of one of the cars across 3 drawers, with the drivers' race numbers to the sides, for £849 including VAT
A 19-drawer, 3-tier stack system, including the PMR Edition Top Box and Roller Cabinet, with a 3-drawer mid box. This is available as a standalone system for £1,299, or as a 1,001 piece "Mega Master" system, including almost any tool you can imagine, for £3,299. Both prices include VAT
Martin Broadhurst, Team Manager, Power Maxed Racing – "We've worked closely with Teng Tools for the last 5 years, and have always found their tools and equipment to be of fantastic quality. The branded toolboxes are something we've been discussing for a while, and we couldn't be happier with the finished designs. Seeing the PMR cars and branding in workshops is something we're going to take great pride in."
Colin North, Head of Sponsorship, Teng Tools – "Teng Tools have been involved with various BTCC teams over the years, but few match the professionalism of PMR, especially when it comes to making best use of the marketing opportunities available. We're proud to continue our involvement with Martin and the team, and so what better way to celebrate than with an exclusive version of one of our most popular toolboxes?"
All systems are available now and are exclusive to PMR. For more information, please email This email address is being protected from spambots. You need JavaScript enabled to view it., or call us on 01789 330727.