Power Maxed makes the Maximum of its Corporate Hospitality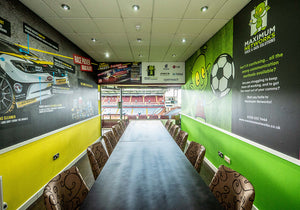 Maximum Networks have teamed up with Power Maxed, one of their many customers, and owners of British Touring Car Championship team Power Maxed Racing, who they also support, to provide hospitality at Villa Park for their top clients, whilst providing a high end experience during Premier League Football games.Villa Park is one of the oldest and most famous venues in world football. Having been the club's home since 1897, it has hosted an array of prestige events including international fixtures, World Cup and European Championship matches and FA Cup semi-finals.
The suite offers Maximum Networks clients fantastic views, food and drink and a great chance to network amongst other business owners. The suite features a mixture of Maximum branding, alongside pictures of Power Maxed Racing's BTCC Vauxhall Astras, strengthening the already close bond between the two brands, and gives fans the opportunity to enjoy top level motorsport and football with the two companies.
Adam Weaver MD of Automotive Brands- the parent company and Team Principal of Power Maxed Racing said: "We wanted to Rev the box up a bit,  and like Maximums phone lines and systems we wanted it to be crisp and user friendly, all the others are plain walls with a few pictures at best, between Maximum and ourselves we really went to town to create something special, our wall features BTCC imagery and details where on the car our Power Maxed products can be used. It's been a very successful partnership so far with our clients loving the experience and the space we have created."
Stewart Lines of Maximum Networks said: "Adam Weaver and I have a common interest in Aston Villa, and It's been great to be able to create a fantastic space for our clients to relax and enjoy themselves watching some great premiership games."
Maximum Networks are specialists in all aspects of business telecommunications in Birmingham and throughout the UK. From system maintenance and network cabling to cloud storage hosting solutions, Maximum Networks take great pride in being one of the UK's leading suppliers of business telephone systems.
Automotive Brands are owners of brands such as Steel Seal- the world's best pour in head gasket fix and the incredible value range of quality automotive Power Maxed products covering, valeting, detailing, polishing and a range of automotive additives and care products, they also distribute the world famous Motul oil brand having well over 100 years of history.
Power Maxed Racing operate the factory supported BTCC Vauxhall Astras, this year piloted by the most successful British racing driver ever, Jason Plato, and former Independent Champion, Rob Collard. The Warwickshire-based team have achieved a lot in their short 5-year history, including 2x Jack Sears Trophy wins for Best Rookie, and finished joint-second in the Teams Standings in 2018.