PMR success in first TCR foray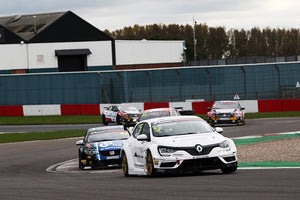 Sunday saw the final round of TCR UK at Derbyshire's Donington Park circuit, with PMR fielding their first entry into the championship, in the form of Alex Morgan. The Wales-born driver has already seen success in TCR Europe, winning his first race in August in a Seat Leon TCR. The final round of the TCR UK  championship would see Morgan take to the track in a Renault Megane TCR; a car in which he's been involved with since its inception in 2018, but that has struggled to provide the results some of its competitors have seen out in Europe.
Following an extensive development programme by PMR over the last couple of months Morgan took the Megane across the line in P2 in the first race of the weekend, just 1.6 seconds behind the race winner, and almost 10 seconds ahead of his nearest rival. Race 2 saw an epic battle with championship runner-up Lewis Kent, with Morgan narrowly missing out on the podium to snatch P4 overall but 3rd in the TCR class.
PMR's development programme centred around the suspension and dynamics of the car, and was performed in-house, utilising the Warwickshire-based team's simulation and testing tools, as well as the same Absolute Alignment equipment used in their race-winning BTCC programme, all overseen by experienced engineer and Team Manager Martin Broadhurst:
"We've been developing the Megane for a while now, but weren't happy sending it out until we were confident the setup was somewhere close to where we wanted to be. We couldn't have been happier with the results, Alex did a great job over the weekend and has shown what the car is capable of, we're looking forward to progressing with it for the 2020 season and moving the focus to other areas of the cars development. This is also the perfect showcase for the engineering and setup work we perform for multiple customers behind the scenes, which many people aren't aware of."
Alex Morgan – " It was fantastic to be racing in the UK again, and also to return to the TCR UK series in the Megane. We have been in discussions with PMR for a while about assisting with the development of the car, and it was great for me to finally test their initial results. Despite it being our first time working together, everything ran perfectly as would be expected with such an experienced team. A lot of hard work has gone on behind the scenes in the build up to the race weekend to make this possible, and so I am extremely pleased to have got the results we did. This really reflects the progress already made, and I am hopeful that this is the start of more to come for 2020."