Newsham confident for podiums in 2015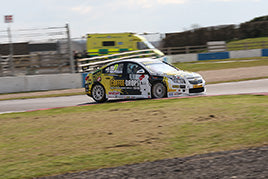 Dave Newsham insisted that there was no reason to suggest that he could not fight at the sharp end of the grid during the 2015 British Touring Car Championship season as he prepares for a fifth-successive campaign in the series. Newsham's presence in the championship had been the subject of doubt for much of the off-season, before Adam Weaver's Power Maxed Racing outfit announced his signature as the driver of one of their Chevrolet Cruzes.
Speaking to TouringCars.Net at Donington Park during the championship's Season Launch event, Newsham was thrilled to be returning with a fresh challenge on his hands.
"I'm delighted to be back and [particularly] in this drive as well," he said. "Adam's [Weaver] put together a really good team here, it's all new – the cars appear good, I've driven it a couple of times now and it's all looking good. There's a long way to go and plenty of improvements to be made but it's a good start."
Newsham's arrival was part of a busy winter period for the team, which first took full control of the entry having sponsored Chris Stockton last season, before announcing former Triple Eight Racing chief Martin Broadhurst as Team Manager and confirming an expansion to a two-car entry with Josh Cook graduating to the championship.
The former Clio Cup champion admitted that his options had been sparse for 2015, but he believed that the opportunity to join Power Maxed's project was one not to be sniffed at.
"It's the staff he's employed; Martin Broadhurst who's come from Triple Eight, he was the big deciding factor really as to whether I came here or not.
"But as is the case every year I'm not spoilt for choice on the budget I've got – we just managed to put a deal together but I think it's really positive."
Prior to the media day session, Newsham had had the opportunity to run his Cruze on two occasions.
Neither of those tests ran smoothly, with the 47-year-old experiencing problems on both days, but he did not expect them to provide himself and the team with any major headaches.
"They've just been teething problems," he insisted. "The car's been built from the ground up. We had an oil leak at Rockingham which unfortunately curtailed our running and at Brands Hatch we had a brand new fuel pump that failed so we had to sort another one.
"It's just these little niggly things but I think that's what testing's for, to get these out of the way and hopefully we're sorted for the season."
Indeed, Newsham enjoyed a productive afternoon at Donington, racking up 53 laps of the Leicestershire circuit with a best time of 1:11.099, the 11th quickest of the day.
And the two-time race winner was bullish about his chances in 2015, insisting that top-three finishes were not out of the question.
"I'd like to think we're going to be racing with the guys near the front – these guys are all sorted, they've done a lot of testing and their packages are all sorted so that's where I want to be, racing with the guys in the top ten.
"The guys who aren't getting much running in, hopefully we're going to be ahead of anyway but we'll just have to see how we get on. I don't know where we're going to be at the moment but this seems like a step forward from the Focus that I raced last year.
"If we can finish inside the top ten, I'll be delighted. With some podiums – I managed that in the Focus so I think we can get right up there. We're not going to do that every weekend being realistic but occasionally I think we can get up there with a reverse grid; I can race so that's my aim."
With Power Maxed Racing his sixth team in five years, Newsham was also hopeful that he had found himself a long-term home, which he believed could eventually form the basis of a title challenge.
"This could be a long-term thing. I think Adam Weaver wants to make this a multi-year thing, we just have to see how we get on but I've been wanting that for years, when you've got the budget that I've got it doesn't always work.
"A team has got to subsidise my drive because I haven't got the whole budget and the teams I've been with in the past, they've been able to do it for one year but not two.
"Adam has got some cracking brands here and his business is really going places so hopefully we can work on this and make it a multi-year thing – and then we become challengers for the guys at the sharp end, a challenger for the championship; I still believe that's in me."