Power Maxed Racing - Brands Hatch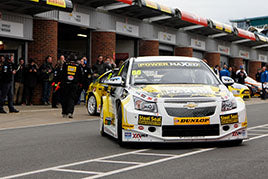 The debut weekend for Power Maxed Racing saw many positive elements for the team, both Josh Cook and Dave Newsham showed pace from the outset and the team are leaving Brands Hatch with their heads held high. Power Maxed Racers Dave Newsham and Josh Cook started race one of the Dunlop MSA British Touring Car Championship 14th and 20th respectively. In true BTCC style, the first lap was packed full of drama with Newsham getting sideways thanks to assistance from a tap from the rear, resulting in a drop of 4 places. Cook adeptly negotiated the backed up cars and was paid back by a jump of 5 places to 15. Cook continued to push and capitalise on his momentum and some skilled overtakes saw him gain another 2 places to finish 13. Newsham pushed until the end and made it up to 17.
With the new procedure for grid positions now in force, the grid is formed by the fastest laps from race 1, Newsham started from p15 and Cook from p16.
Race two didn't disappoint, both cars got a great start and Newsham pushed his way up to 13th by lap 5 with Cook in 17th. Newsham had the bit between his teeth and passed Austin and Collard and when Plato left the circuit Newsham was in 10th. Newsham held the place gallantly until Abbott and Newsham collided on the last corner triggering a technical issue causing Newsham to finish 15th and miss an opportunity to grab the coveted reverse grid. Cook had another great race. Following his good start, Cook showed discretion to avoid an accident in front of him, knuckled down and pushed hard. The BTCC debutant made great progress through the ranks showing his flair for overtaking to finish 14th.
The final race of the day saw Josh Cook start from P14 and Dave Newsham from P15. Almost immediately, an incident caused the deployment of the safety car and unfortunately Cook's charge was halted on lap 4 by an as yet unconfirmed technical issue. The race resumed on lap 6 with the distance extended to 27 laps and seeing Newsham in 12th place. The drama continued as Turkington spun off and narrowly missed the front of the #17 Cruze promoting Newsham to 11th. Newsham continued to push and got involved in a three-way battle with Priaulx and Abbott but prevailed and took 10th. With Jordan retiring with a puncture, Newsham was in 9th and 8th place was closely contested right up to the line but Newsham had to settle for 9th.
Adam Weaver, Power Maxed Racing Team Principal commented,
"It has been a positive first weekend for the team. I am immensely proud of all of them. Both Dave and Josh did themselves and us justice. We have some changes to make ahead of Donington, but this is to be expected. It feels good to be leaving with a brace of points, a top 10 finish for Dave and to have Josh 2nd in the Jack Sears trophy, it all bodes well for the future."
The team will be back in action for the next round of the Dunlop MSA British Touring Car Championship at Donington Park.