Power Maxed Racing - Thruxton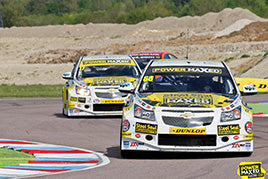 Power Maxed Racing's strong form continued this weekend at the third meeting of the 2015 Dunlop MSA British Touring Car Championship at Thruxton. The weekend was packed full of incidents, but the team bagged points from all three races and were awarded the Jack Sears Trophy with Josh Cook.
Both Power Maxed Racing Chevrolet Cruze Saloons showed their pace immediately and were in the top ten during the free practice sessions.
Qualifying was action packed and punctuated with red flags following an accident that saw Mike Bushell admitted to hospital with ligament damage and bruising.
Dave Newsham set a time worthy of a second place, only to have it disallowed for exceeding the track limits. Cook had the bit between his teeth and set a number of strong laps culminating with a qualifying place of 8th.
Newsham made a great start to race one making up places until, on lap two, he passed Warren Scott who made a daft lunge into Newsham's rear quarter, breaking his rear control arm and ending his race.
Josh Cook got off the line but lost traction and dropped to 12th. Determined as ever, Josh set to it and worked his way back to 9th setting some blistering lap times in the process.
The grid for race two is set by the fastest lap times from race one. Cook started the race from within the top 10 at 8th. Due to Newsham being forced out of race one, he started at the back in 25th.
Cook had a good start to race two, putting him right in the mix. As Morgan and Priaulx tagged on the first corner, the cars behind, including Cook scattered onto the grass to avoid a collision. Cook collected a Dunlop advertising hoarding on the grass and was forced to pit to have it removed. Cook rejoined the race in 22nd but worked his way up to 18th with some great overtakes.
Newsham got a cracking start from the back, making it up 16th by lap two. He continued his charge to pass Depper and Abbott to make it to 14th by lap 3. Newsham then passed the stricken Toyota of Ingram to make it into 13th and went on to finish 12th, a gain of 13 places from his starting position.
Race three saw Newsham starting 12th on the grid and Cook 18th following the results in race 2 and with both drivers carrying no success ballast. Cook had a storming first lap making it up to 15th and Newsham was locked in a battle with the VW of Smith. Cook passed Moffatt on lap 4 but glanced the back of Newsham causing him to fall back to 18th. Cook was in 11th and on lap 7 lap as Newsham clawed back 2 places to 16th. Spurred on Newsham then passed Priaulx to take 15th. The safety car was deployed on lap 8, extending the race to 19 laps, on the yellow flag Cook was in 10th and Newsham in 14th. Newsham charged hard to take 13th on lap 14, and Goff slid off on lap 16 to put Cook in 9th. Newsham never gave up and made it back to finish in 12th.
Dave Newsham commented, "It's definitely a weekend of mixed fortunes as we had cracking pace throughout. I have never been involved with a team that has delivered such an improvement from FP1 to qualifying."
Newsham continues,
"Our pace was evident as I've gained nearly 20 places via overtakes throughout the races this weekend. We've had some drama though, I will be watching the ITV Highlights to see the hefty punt I received from Warren Scott that took me out of in race 1, plus a collision with my team mate cost me places in race 3. I appreciate Josh's contact with me was an accident, this won't change the way we work together, it's been great so far, and it will continue that way for the rest of the season I'm sure."
Josh Cook commented, "It's been great to win the Jack Sears Trophy for the second round in succession, a true credit to the team who have been on the ball as always. The weekend has not gone to plan as I took a trip across the grass in race two, managing to save the car but that cost grid places and I also had a coming together with my teammate Dave in race 3."
Cook reflected, "I would like to say how sorry I am to Dave for the incident in race 3, I was passing Moffat and fighting for position when I clipped the back of Dave, he controlled it beautifully but it cost him 6 places and that is just not right. There is nothing worse than contact with your teammate, Dave and I have a great relationship and I want that to continue.
Adam Weaver, Team Principal, Power Maxed Racing commented,
"It's good to see how well we are going in our third ever race meeting. Our pace was well within the top ten, yes we have had more than our fair share of incidents, but that is racing. Between Dave's blistering pace in qualifying and Josh's continued Jack Sears Trophy wins, it's payback for doing things right."
The BTCC returns in 4 weeks time at the beautiful Oulton Park Circuit in Cheshire. Full coverage is available live on ITV4.