Power Maxed Racing - Oulton Park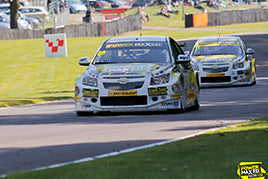 Power Maxed Racing headed to Oulton Park this weekend for the latest round of the Dunlop MSA British Touring Car Championship. They had a turbulent weekend and more than their fair share of bad luck, but the team still managed to leave the Cheshire circuit with a healthy points haul and the Jack Sears trophy for the leading rookie.
The team made solid progress in the free practice sessions with both drivers putting in strong sectors and gaining valuable data on the new tyre compound that was introduced this weekend.
Qualifying took place on a warm track after a long burst of welcome sunshine. Both Power Maxed Racing drivers Newsham and Cook put in good opening laps and found themselves in the top 10 but were squeezed to 13th and 14th respectively in the closing seconds. Newsham secured his place as first Power Maxed Racing driver on the grid for race one.
With a leisurely midday start to race one and under sun filled skies, both drivers got off the line well, kept out of trouble with some close door to door action. Maintaining their positions throughout with great defensive lines and clean driving saw Newsham finish in 10th and Cook in 12th. The impact of the battling in race one resulted in unusually slow lap times for both drivers, which dropped them down the grid position for race two with Cook starting in 17th and Newsham just behind in 18th place.
Race two saw both cars stricken with bad luck. A championship component failure saw Newsham pit on the warm up lap as the front subframe failed. The team put in a sterling effort, showing their mechanical prowess and managed to remove and refit the whole front end and engine, replacing the damaged subframe and getting Newsham out with moments to spare before race three.
Cook was on the receiving end of a hefty shunt from the Audi of Rob Austin that saw the rear bumper make contact with the rear wheel resulting in a puncture. Cook made it back into the pits and after a fast pit stop from the team, was back out to finish the race. Unfortunately, he had lost too much ground and finished in 26th.
Race three saw Cook start in 26th and Newsham start back in 28th. Both cars got off the line cleanly with both cars making good ground in the opening laps. Newsham had is head down and had made it to 23rd by lap 4, but Cook really had the bit between his teeth and battled his way to the midfield in 15th. Newsham continued to make ground and by lap 12 had battled his way to 20th. Following the demise of Andy Priaulx and Rob Austin, both drivers gained with Cook up 2 places to 13th and Newsham up 5 places to 18th, both maintaining these positions as they crossed the line.
The team leave Oulton Park with both drivers maintaining their positions in the drivers championship, the team holding its Championship position and Josh Cook taking the Jack Sears trophy for the third consecutive weekend.
Adam Weaver, Power Maced Racing Team Principal commented:
"It has been another weekend of hard knocks to both drivers and the team. There has been some robust passing by a few unnamed drivers, but both drivers have shown their skill to keep it on the track. The team, however, have been outstanding for me this weekend. After the failure of a standard issue part, they put in a tremendous effort to change the entire front end, transplanting the engine and all front end components in a shade under 2 hours. It was a delight to see professionals doing their job and working so well as a team, they have made us all very proud. We have further developments to make to the car and will be out testing next week to move things forward again."
The team are back in action at the North East circuit of Croft on the 27th and 28th of June, full coverage can be found on ITV4.